Chapter Ten: Decisions, Decisions
When we last time we left our hero, he had just made a cross-country trek in an unknown truck that had caused no end of troubles en route -- just like the many racers our hero is trying to emulate. The troubles were inadvertent of course but the entire episode nearly caused a separation from sanity.
The truck, with cars on its back, was abandoned behind T&D Machine Products in Carson City, Nevada. I escaped back to the bowels of Los Angeles.
Meanwhile, far away in Winslow, Arizona, an old pile of tubing with wheels on each corner and an even older fiberglass shape were being pondered. And though much discussion and thought was exchanged, there was no cure for the problem of rear tires that stuck out of the too narrow body.
Chris and I discussed bubbling the rear body around the tires and though many cars had similar extensions from about 1973-79, I'm not in favor of that option.
We discussed narrowing the rear end too. But that just didn't seem correct. First, the rear end is a pretty niece piece. The floaters are in place and the back-brace extends right to the very ends of the housing. To cut on it would be very work intensive. Several people involved in the conversation suggested that to do it properly meant starting from scratch with a new housing and new floaters.
Ugh. The body stretch helped the wheelbase matching problem but it has not helped the tire clearance problem. According to Chris Stinson, "… the body measures 60" and the outside of the tires are 62." It might be slightly different with the old wheels on it because they're 13x16 and maybe that'll help. We'll see."
We were discussing my pair of 16x13 American bearpaws (some people call them bearclaws) which had just arrived.
Here are a couple pictures to help the descriptions.
Chris moved the body forth-and-back and side-to side until he was reasonably happy. He then threw some old Ford truck wheels on the back – they are the proper 5 on 5-1/2" pattern standard in drag racing for many years. Keep in mind that the front tires/wheels are off of Earl Watts' altered. He loved the wheels/tires that came with my chassis so we sorta traded. These are way too tall for my car but do allow it to roll around.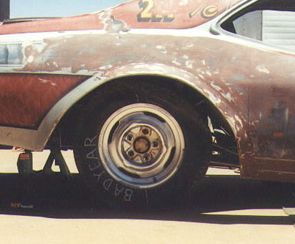 "Here's where the body is sitting right now. It's pretty well lined up in the rear. Things may change quite a bit once we get your wheels and tires on. The wheel offset and tire width in the rear will make a difference as will the lower profile front tires. We'll just have to look at things fresh once your wheels and tires are in place.
I'll check on some motor plate aluminum, and if you'll do the same we can talk soon to see what will be the best way to get that going. Once we have the wheels and rubber you're planning on running I'll be able to get started on the front tree and latch finish the rear tree and hinge it and start tinning it. We'll need the motor plate eventually but it's not the most important piece at this point.
Talk with you soon.
Chris"
Please do check out the close-up of those Ford rear wheels to see Chris' great sense of humor.
OK, so the wheels went on and the body didn't fit. Is this getting to be a familiar tune? I don't have a photo of that, sorry. More conversation and much thought came next. I finally decided that there were LOTS of wheels in the world and to get this car to fit together was going to take a different approach or as it would turn out a standard approach.
My idea was that when Cragar first gave us Super Tricks, they were 16x12, and they came in all sorts of offsets. Surely I could find an old front half, mate it with a newer front half, and come up with any backspace I wanted.
So, instead of narrowing the rear end, I decided to narrow the rear of the chassis, get my deep backspace rear wheels put together and tuck the tires in closer to the frame.
The idea is nothing new. Current FCs have the rear upright – the one that mounts the rear end – behind the driver's back. Mine were outboard like cars were built from about 1972-87. Chris could do it but didn't have a line-up bar – that is the piece that fabricators use to maintain proper alignment between the engine and the rear end. So, I looked around to see if I could borrow one. Few chassis builders were receptive to loaning their line-up bars.
The one that was was Rob Stirling. Being in Kingman, Arizona, he was also closest to where Chris is located. But in further conversation, the jig at Ron's Racing where Chris is working was full of a front engine dragster that couldn't be moved and wouldn't be finished by the window of time Rob was willing to make his line-up bar available. So, I asked Chris if he would be upset if I hired Rob to make the modifications. Not only would he not mind, he said, he agreed to make the delivery and pickup, and said he enjoyed doing that because he always learned things.
So, an appointment and price was agreed to, I sent money, the chassis was delivered and Rob Stirling made some rather major changes.
Here's a before shot.
The wheels/tires mounted are those that came with the chassis, I believe 16x14 Cragars. The rear end is mounted to rectangular uprights and there are a few diagonals and cross braces. Nothing special, and very typical of its era.
Chris stripped the chassis at Rob's suggestion, and hauled the excess back to Winslow. The chassis was lifted onto the jig, and all the old stuff hacksawed and cut-off wheeled out. Since it was the first time Stirling had laid eyes on my chassis, he certainly had to make decisions as he went along. Basically, he whacked out the original body tree, rear upright, rear end mounts and bottom rail.
When Earl and Laurie Watts went to visit a few days later, Rob already had the new bottom rail and upright tacked in and all the old brackets ground off the rear housing. He had already redrilled the motorplate from Chrysler to Chevy to facilitate his line-up bar. The work seemed to have gone quite smoothly. Compare these photos with the one above: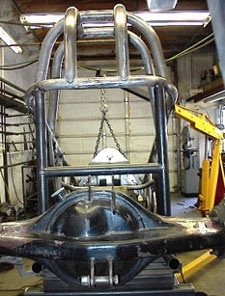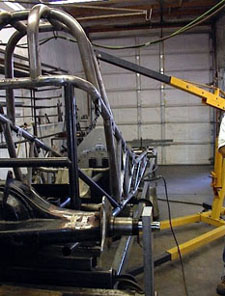 It is easy to see this was the correct decision for more tire clearance, plus, and every bit as important, we found out those old rectangular uprights would not have passed chassis specs. So now we have the proper spec pipe and have gained necessary clearance.
Rob was totally done within two weeks, including adding soon-to-be mandatory helmet bars and doing a few mods to the steering shaft. I highly recommend Mr. Stirling for chassis needs for dragster, funny cars, altereds. He is fair and met both price and time estimates.
If there is a drawback to Rob's Kingman shop is that it is small. So when he was finished, my chassis had to leave. Scheduling is tight there and he needs to clear things out to get the next car in. Earl Watts went back to get mine – actually traded my chassis for Laurie's little dragster which was to get a new cowl. Oh did I mention Rob is a pretty fair tinman too?
The chassis rode back to Camp Verde in the same Ford p/u that had hauled the body a couple months earlier, and Chris Stinson picked it up there. Note that the Rob mods include the helmet bars, the round-tube gusset to the front roll hoop, and the new bottom rail.
Stirling came up with a really simple solution to our problem. See the nice shallow ess turn? That brings the rail in narrower like we need, and since the original rail was larger than the SFI spec called for, he just slid the new into the old. The modification is hell for stout.

Back in Winslow, Chris had the newly narrowed chassis primed for a little extra anti-rust protection. He then reassembled everything for a visual. The gain in inboard tire clearance is quite evident. The modifications do not cure the present body-to-tire problem. But, it does give a major plus when the tires get tucked in.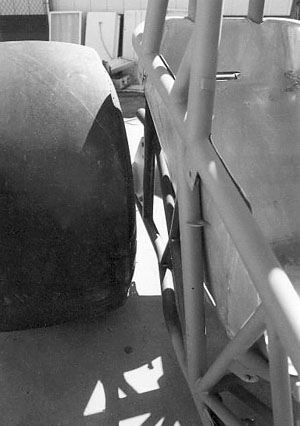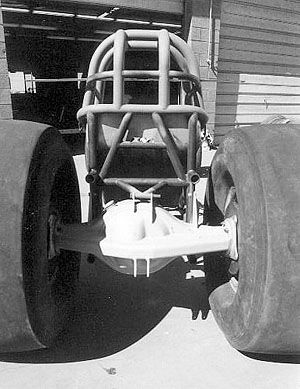 Now I've GOT to come up with wheels.