As usual, I wasn't ready for this trip...

I originally planned to make the trip the weekend of July 20/21, a redeye flight Friday, tiptoe through the truck Saturday, pullout Sunday, straight west to Seattle, attend the NHRA national event at Pacific Raceway, south to Vancouver where I'd get a few things out of storage, and head for Carson City to find a place to live. Not a bad plan.

But, I decided to instead attend the Funny Car Reunion in Englishtown, New Jersey. Since I'm building one, I thought I'd better be part of the scene.

So, I changed my flight plans. Bill Pratt lives near Washington, DC. He and his brother Tim were already planning a trip to FCR. So, I asked, he said yes, and we discussed airports -- Philly, Newark, Baltimore, and finally decided that I'd just fly into National, er, Reagan, sleep a couple hours then ride to NJ with Bill and Tim.

I set my alarm for 5am, finished packing and rushed around so that I could ride with niece Colleen and sister Corky, the latter going for some minor surgery that morning. We made the LAX dash fine, they dropped me near a new airline to all of us, ATA.

They seemed fine, though the little blonde, obviously German girl at the counter was almost weird because I was too early. She also had trouble with my ticket, but her boss came over and straightened things after which they "had to" X-ray my luggage. Oh well.

I planned to have a nice breakfast somewhere but failed to find anything vegetarian so had those little hash brown nodules from Burger King, and a cup of coffee. The latter was nearly my undoing.

Remember those lawsuits against McDonald's a few years back when a lady scalded herself and got a couple $Mill? I understand now. I took my cup over to the machine, stuck it under the spigot, pushed the button and WATCHED the steaming black liquid rise swiftly then overflow all over the back of the hand that was holding the cup. "That was really stupid," I muttered, then went over to a table to eat my tater nubbins. The hand reached extreme temp rapidly and just as soon as I finished eating I went off to find First Aid.

Gosh that's a funny thought. I was certain that if I asked one of the guards I'd be ushered off to some little office where they'd do something. Or, that one of the airlines would have a "kit" with two Band-Aids, a dried out tube of generic Dr. John's Do-All Ointment, and some out-of-date gauze. Hardly.

The first aid "station" is in the International concourse...

OK, so I returned to Burger King and asked if they happened to have a first aid kit. Luckily, I asked the right person. She was the location manager. She had me at a table, applying lidocain, asking if I would like her to call the paramedics and getting me to sign a waver faster than I could ask again.

The deal she used was a wet piece of gauze, with the medication soaked in. I walked around the rest of the time with my hand outstretched and this nauseating (looking) rag on it. People certainly thought I was daft.

Later, when I climbed on the plane, those folk were nothing but nice and even called ahead to see if Chicago (Midway) had first aid. The clinic they use is several miles offsite. I decided I'd live.

ATA, BTW, is what you would certainly call no frills. But, also, adequate and friendly. They do a lot of vacation flights, especially to Hawaii.

The second leg was even nicer. The plane was a brand new (fourth flight!) 727-800. If you're familiar with those little lift generators on the very ends of the wings called "winglets", this plane is the first from Boeing with a total wing design that incorporates those winglets. The whole wing curves up instead of the winglet being tacked on as an afterthought or mod. Very pretty, too.

Out the window of the new Boeing 737-800. Note those lovely sculptured wings.
That leg was pretty uneventful. There was a young lady next to me that had been on biz in Seattle, originally from Idaho, and this was her first flight into National since 9/11. Remember, it was from National that the plane took off that hit the Pentagon. She was a little scared. I had heard there were extreme precautions and one is that you are ordered to remain in your seat for 30 minutes before landing and 30 minutes after takeoff. One lady, I believe Hispanic, went to the bathroom about ten minutes after the order came. Instantly, there were two flight attendants and a man in plain clothes (I'm assuming one of the flight rangers I've heard about) beating on the lav door. She finally came out and was ushered to the galley then placed in a different seat than she'd been in.
Oh, one other thing. A lady across the aisle from me was traveling with two kids, maybe boy 18 months and girl 3 years. Mom and boy went off to the bathroom leaving girl asleep. While they were gone, the little girl awoke and began crying unmercifully. I thought the poor thing was scared having awaken alone. She shrieked, howled and wailed! I felt so bad but knew I could do nothing. Finally, the mother returned and asked if the girl had fallen or what, kinda PO'd at whom or what had caused the trauma. Then the little girl crawled up on her mothers lap and threw right up! This is the second time this year that an infant has puked in the seat right across from mine. That poor woman spent the remainder of the flight cleaning the kids, herself, and the seats. The little girl walked off the plane in one of her brother's diapers and half a plastic garbage bag. Poor kid.
OK, as you can tell from the picture that it was a cloudy day, also stormy. The east had been stormy for two days. As we flew east, I could tell it was getting worse and as we descended, it declined even more. Beyond bumpy.
National has a strange approach.. Due to certain items and buildings on the ground, the approach is a rather large ess turn. It has been like that for years and was not changed significantly after 9/11. As we started the first right turn of the ess, we dropped out of the bottoms of the clouds with right wing down -- I was staring out the window at a boiling Potomac. It was obviously very disturbed by high wind. I thought of the Florida Air flight that went into the river not too far from where we were, on another treacherous night, albeit a lot colder. We leveled out, then almost immediately went into the second part of the ess. I glanced out and saw that we were less than 200 feet off the ground as we began to slowly pull out of the shallow bank. Suddenly, I felt a surge of power as the pilot firewalled the throttles. We climbed rapidly and violently. The lady beside me -- the Idaho one, not the one covered in kid puke -- gulped and when I looked at her I thought she was swallowing her tongue. I spoke gently to her, then joked that we'd probably just been waved off for some reason. When she asked "Why?" I swallowed and did my best to explain the maybes I could come up with, all the while hoping some terrorist hadn't entered the flight deck of such a pristine aircraft.. Of course, there was a 15-minute get-back-into-position maneuver, then a routine landing. When we neared the concourse, the pilot came on and explained that ground control had somehow decided to pull a plane out on the runway right in front of us. His voice was noticeably upset. As I passed by the flightdeck, I hollered "thank-you" through the open door, then hovered to ask both pilot and co-pilot why a near miss was less of a problem then a terrorist. They shook their heads. I still don't know.
Bill was waiting in baggage and apologized that he'd never heard of ATA so had not known where to park. We had a long walk, then a thirty-minute ride to where his wife Denise was still holding a veg spaghetti dinner for us. That was much appreciated. We played with the website a while, then I went off to sleep. Though I was going the wrong way for jet lag, I was fatigued.
The next morning, Bill woke me at 6am and we were on the road by a few minutes before 7am, picked up his brother across town, where it was decided that Tim had the most sleep -- he drove and I navigated. That's a laugh.
We used a few little sheets from Mapquest, which has directions plus tiny maps. We paid lots of tolls, made all the turns indicated, but then after driving quite a ways in New Jersey on 295, with me saying, "I think we're doing something wrong," we pulled off for breakfast. The directions wanted us on the NJ Turnpike, we were on 295. What we discovered by looking at a $4 map was that the two roads run parallel, just about four miles apart. Just a wee bit north, we turned east and got on the turnpike. BTW, by going slightly wrong, we saved a few dollars in tolls.
The event at Englishtown was really a Sunday-only deal, with parking and get acquainted time Saturday. There was plenty of that, plus a funny car "rules" meeting at the track at 7:30pm. Then we drove to find our motel.
Basically, we retraced our steps but as tired as we were it seemed like it took longer than on the way to the track. It was a Super 8 with delusions of grandeur -- $109 for one night! Their sign for the attached restaurant said there was a "Lamb Chop Special" but when I asked about Sherri Lewis, I received blank stares from the motel personnel. The restaurant had $19.95 dinners so we headed for a place up the street called "Mom's."
Did I forget to tell you that there are no left turns permitted in New Jersey? For whatever reason, NJ has spent a fortune in asphalt and acreage to build lots of flat cloverleafs at virtually every intersection! Signs everywhere say "ALL TURNS FROM RIGHT LANE." Should you want to make a left turn, in lieu of getting into a center turn lane to make a 90 degree left turn, you get into a right lane, make a sweeping 270 degree turn around a gas station, library or whatever, and go across the street you were just on. It makes sense to me.
It was 10:30pm, Mom closed her place at 10pm, but one of her cute daughters let us in anyway. When we finished it was back to the room. Bill and Tim took the beds, I took the rollaway. For $109, you got just enough room for the two beds. When we asked the person that brought the rollaway just where we should place it, she threw up her hands and spoke in a tongue not my own. Quickly eyeballing the remaining space, I discovered the ONLY option was the space where the door to the room opens. My head was against the hollow-core door. The foot of the rollaway intruded on opening the bathroom door fully but, oh well. I quickly discovered that every caterpillar that crawled by in the hallway (as well as those folk that hollered laughed and slammed doors) echoed, reverberated and resonated directly through my headboard into my cranium.
Two nights down with little or no sleep.

We saw this collie in a sidecar on the way to the track Sunday. Motorcycle is rare Russian army from just post WWII.

In the morning, we had a nice breakfast and headed for the track. There were more funny cars and lots of action. I was able to see many things and people that haven't surfaced in two decades. After it was over, we spent an inordinate amount of time turning right to get left in finding a restaurant several racers had chosen. By the time we arrived, most had come and gone. We ate, watched some of the delayed Seattle drag action on TV, than headed for the tollgates.

After a great many quarters and bills thrown in baskets along the way, we got to Bill's house in Waldorf, Maryland at 3:30am. Whew.

In the morning, I uploaded a few photos of the event to Bill's Eddress so that he could get something about the race on his website (draglist.com), then rode with him to Smithsonian Air & Space. I was hungry and zombie-like and was dismayed to find a McDonald's inside the museum. Ugh. Later, I filled out a customer complaint form and suggested that I had seen the handwriting on the wall -- that soon the various displays would be sponsored too. IE, Microsoft will sponsor the Spirit of St. Louis.

I had lunch with a long time friend that works at the Smithsonian, Jeff Tinsley, then he dropped me at National where I met Denise Pratt, there to pickup her folks in from Colorado for a week visit. When I got back to the house, I lay down and fell asleep. When I awoke, it was 8:30pm, Bill was home from work, and dinner was on the table. Denise had made me a veggie burger. Nice. After that, there was some general chatter, a little computer stuff, and to bed.

On Tuesday, I rode with Bill Pratt to National, had my bags searched, ate a bagel, scrambled eggs, and a banana, then flew to Milwaukee on Midwest Express. Folks, this might be the nicest airline going. The WHOLE plane is rigged like corporate first class. Leather seats. More legroom. Real glasses. Real stainless steel (well there was a plastic knife). Nice deal. Upon landing, there were wonderful office desks, about four for every two gates parking spots, with modem ports, phones, etc. I could get used to that.

Then I climbed on a little Fairchild 328 for a 25-minute hop to Green Bay. There, Ken Hallgren picked me up, we went directly to DMV to at least buy a 30-day trip permit for the truck, and than a 45-minute drive to actually see the truck. He was much younger than I thought and very nice.

He lives way out in the country, seemingly a LONG ways from anywhere. The truck sat in readiness. I walked around and around. Asked questions. Walked around his "back forty" and the next-door-neighbor's too, both filled with cars, trucks, cats, a well digger, a few motorhomes, etc., all in various stages of misuse and decay. Some were actually cool to see. I asked about a bigger fuel tank for the truck (it only has about 25 gallons!) and we dug a nearly perfect round aluminum tank out of the weeds that for only $50 could be mine.

I then was taken to downtown Kewaunee, Wisconsin, and the Historic Karsten Inn. Oh sure, there were a few torn up streets, and boarded-up buildings in the 150-year-old town, but I instantly fell in love with the Karsten (

www.karsteninn.com) when I walked through the front door into the full accurate lobby.
That's the little Karsten Inn. That wooden appendage is kinda unattractive from the outside but from the inside, the little inn is a sweetheart. The restaurant is to die for! My room is the corner one on the top floor, with windows in both directions – perfect for storm viewing!
Then I fell in love again when I met its proprietor, Roswitha (of COURSE she's married). I hauled my stuff to the third floor, to a room with a panoramic view of the town, cleaned up a little and went down to eat in the delightful restaurant. Roswitha has paid big money for a high-class chef and the dishes were superb. He custom made me pasta primavera and it was too good.
After that, I decided to get some rest. That was about the time the first storm of the season hit eastern Wisconsin...
The TV warned of high winds, rain, hail, and tornadoes. The good news was that I was on the third floor with a panoramic view west and north. The bad news was that I was on the third floor where the high winds were, and the folk on TV were saying I shouldn't be! When the cable went out, I watched the storm. When the power went out I grabbed my little flashlight and headed for the main floor. The power came back suddenly and I went back upstairs. The power surge put the phones out, and most of the TV stations as well. Then I heard a huge crash, and headed down to report it. The staff, including Roswitha and those in the restaurant, had long since left the building. The little bar was open and the girl there called a maintenance man (her dad) who drove over in squall jacket and "I hate seagulls" cap. He found windows open in the room adjacent to mine, and some minor damage as well as serious water all over the floor. This storm was producing some serious wind and water. The lightning was tremendous. I bought the bar a round and tried to act OK, but truth be known, I was scared.
It was another night with not much sleep. The fourth for those counting.
The next day, I had a little breakfast then Ken picked me up for a better survey of the truck. I changed oil and we began to change belts but the replacements were too long. We surveyed the tank situation and decided it was too big in diameter to fit under the truck without a lot of modification. I passed. We installed a tape player and hooked it to speakers. It worked. By then it was time for him to go to work so he dropped me back off at the hotel.
I walked a couple blocks to a Laundromat lugging my dirty clothes and did three loads. That was a very hot prospect, actually. It was probably 95 degrees outside, and the Laundromat was NOT A/C'd. Then, I had a nice dinner -- gambled on the salmon and a baked potato and it was YUMMY! Roswitha was there late to help with a birthday party of about 30 and she was hopping but we talked some. That night, I slept better.
Thursday morning, Ken picked me up and we grabbed the right parts at the local "Bob' s Auto Parts" (really, that's the name!) and we headed for the truck. In just a couple hours, things were secure and we checked lights and a few things and I climbed aboard for the short ride to town.
The truck seemed BIG on my way to town. I stopped back at Bob's and exchanged an incorrect hose, tried to work on the windshield wiper blades (no good) bought a headlight that didn't fix the lack of a lowbeam on the right side, and a heavy-duty ticker/flasher that cured a weak turn signal. Then, I parked by the Karsten Inn, cleaned up, packed out, said goodbye to Roswitha and fueled up. I was on my way at 3pm.
Suitcases on board, I said goodbye to the Karsten Inn in Kewaunee, Wisc.
I started the trip with a few stickers and added to them as I traveled.
Because of construction on I-29, getting from Kewaunee to Green Bay was a matter of going a long ways on country roads. I made mostly correct turns and somehow found westbound I-29 somewhere near Green Bay. I ran through a nasty rain cloud and proved to myself that the wiper blades failed to touch the windshield. Not good if your desire is to clear away the water.
At the first fuel stop -- Wittenberg, Wisconsin -- the gas station was right beside a Napa store so I wandered over. Two bored guys tried to rectify the wiper problem but had no parts. But, after I removed the blades and arms, some well-intentioned tweaking and bending caused the wipers to work in reasonable fashion.
The next gas stop was in Chippewa Falls, near Eau Claire, then I stopped for the night in Menomonee – I was finally on I-94. It was in a modern Motel 6, but the area had no Internet service so I ordered a pizza and went to bed.
In the morning, I did a little Wal*Mart-ing, then drove to Roger, Minnesota to a Travel Center. There, I not only fueled and oiled but had the truck mechanic give the rig a once over. He put 1-1/2 GALLONS of 90-weight in the rear end, lubed the chassis, as well as made sure the tires were properly aired. Did you know it costs $23 to put air in a semi's tires? I didn't. They have to take part of the rear hub apart or something. By the way, he asked me what was wrong with the headlight. Somehow, jostling a few miles "fixed" the lack of a low beam.
I also visited a car museum there -- the Ellingson. Not bad, but it was $7 and only had about 50 cars displayed. The rest were for sale. Nice scam. Might be right up there with the most expensive used car lots in the world. There was a "nice" $7,995.00 64 Dodge Dart with a bent nose and a really poorly repainted Rambler Marlin for $6,995.00. I've got the phone number if you're interested.
One of the things I bought at Wal*Mart was a little clock. Oh, did I tell you that besides a small tank the truck has no gas gauge? Actually, it has two. Neither awakened. And, I could not see the odometer while driving. Anyway, I decided that I'd figure out a ballpark mileage figure, then use time so I wouldn't run out of fuel. For example, if my range was 120 miles, 60mph x two hours = max range. Cool. My ballpark was not good enough for one leg though because I went through some construction, slowly, and I rationalized that I could stretch my time. Nope. The truck ran out anyway. It is lucky, or preparedness, that I'd stashed a 5-gallon can full of gas and a funnel in one of the side pouches? Hmmm. After adding the gas, going another ten miles or so and refueling (with gasohol), I only went another 20 miles or so to a Super 8 in Valley City, North Dakota. I had no Internet access there either... Sigh.
The big black unit and I made it to Billings, Montana the next night.
I learned the NASCAR strategy of "short pitting." I pull in early rather than too late. The range seems to be about 125 miles. That isn't dead on but close enough for this discussion. For example, last leg was 148 miles so I pulled in after only 47 miles to ensure my arrival.
There were very few rooms in Billings – I stayed in a Red Roof Inn -- and I had to maneuver around awhile to find the place. I say that only to remind that this wasn't exactly a VW beetle I was in.
It was a mostly hot, boring ride. I did see the biggest buffalo, a 60-ton concrete piece, and the largest cow, similar in proportions -- both are prides in their N. Dakota towns.

No, that isn't a new hood ornament. That's a perspective shot of the world's largest buffalo, a 60-ton beauty located in North Dakota.
I also met a waitress that I need to add to my list... Rich Carlson, and my sis Shari and I have met some doozies over the years of travel. This one was in place I wanted to have a piece of pie. I asked her if they had any berry pie. She said, "Well, we have pecan, lemon, coconut and apple." I asked again, "No berry?" "Yes, the pecan is berry, and so is the lemon."
The next day started lousy. I had parked where management had indicated – big trucks only. I would have been on the road really early that morning but the truck was trapped by cars parked around it, reminding me that another "yellow hair" died about 30 miles from there in a similar circle. I waited. I walked a couple blocks and ate something. I finally complained. One of the vehicles was a motel worker who moved and I was able to squirm out. I was hoping for 6:30am, it was 8:30.
The road was decent. I continued short pitting. About the third stop was Deer Lodge, scene of the state prison. A few years back the state moved the prison outside of town and abandoned the old one. Somebody turned it into a museum. Pretty nice group of about 140 cars and of course the prison itself can be toured. I stomped through pretty fast cuz this was a planned gas/food stop and I wanted to get back moving. I was just about to hop back in the truck when lightning hit the prison water tower with a loud "twang" less than 200 feet from me -- thunder was simultaneous! I putted down the road amidst continuous strikes and thunder then fueled in pouring ran. As I held onto the metal handle, I wondered if it was a good idea to be hooked to that much gasoline in the midst of so much rampant electricity but braved it. I was kinda wet but not bad and I ate something while waiting out the rain.
The storm lessened but continued the whole next leg, making travel pretty intense. I decided to pull over a little west of Missoula and try again the next day. It was a Sunday and the motel had ESPN2 so I was able to see the Sears Point national event from R1 on.
The next day was a pretty leisurely deal. I was up and out early with no parking lot probs. After an hour or so I called my friend Larry "Muffler Man" Taylor near Spokane. He raced Top Fuel for years and I've always tried to stop in when I go by. I'd emailed him so he wasn't surprised. I asked if I could do a little maintenance on the truck and he said come on. The only problem with that is that he is way off the beaten track.
There was lot's of construction and at one fuel stop I stomped around in a cool casino/store where I shot a picture of the only flying jackelope I've ever seen.
I was in Spokane by noon, then about 45 minutes of town traffic and little gravel roads to Larry's. We did lunch and then dove into the truck, checking and tightening. The new belts I bought were all loose. Also, one thing the truck did not have was a way to lock it. Larry made a little pin and plate and there was suddenly a security system. Thanx Larry.

I hoped he'd help me do a few more things to it – we even discussed a fuel tank -- but his week was full, and he didn't invite me to stay so I went on to a motel.

I planned on Seattle and to see my good friend Fred Vosk (

www.bikesters.com) and my sister Eileen the following day. But things have a way of changing on an evolving adventure. There was no place to wash clothes near the motel so I walked to a Kmart and bought a pair of jeans for the next day.

I left at about 7:30am, fueled and went out to Ritzville before stopping again. I carried my atlas in to the Perkins I was in and checked my options. I wanted to go to Seattle to see Fred and my sis Eileen. I wanted to go to Yakima to see my friend Pam (whose husband is ill). I wanted to go to Vancouver and pack stuff and move along. I was very hesitant. I called Pam and received the answer I half expected. She had visitors and it would not be a good time. I found out from Email that Eileen was headed to Oregon to sis Corky and Dean's beach house (where they were) to pick up our mom on Thursday. I planned to go there too for a few hours or maybe a night. So, I decided to head south on I-395 through Tri-Cities and on to Umatilla where I would head west on I-14, the windy 2-lane on the north side of the Columbia River.

There was road construction in Pasco, Richland and Kennewick, I made a wrong turn and had to make a major backturn, but other than slow going, I was OK.

When I got to the river and made the west turn, I knew that this, from a strictly visual standpoint, was a fantastic decision. It was beautiful. But as I proceeded, and I got closer to the river, it was evident that wind conditions were extreme. For those that don't know, this road pretty much follows the contours of the Columbia. Where the cliffs are high, the road climbs to the tops, through lovely orchards and vineyards, then tumbles back to water level. Even with the wind, a car trip is 180 miles of picturesque scenery, worthy of postcards and magazine covers. In this truck, it was several times terrifying.

I have a fear of heights. Add wind, a tall seating position, a curvy road with the potential of over-a-cliff-at-any-time, and one receives a sphincter tightening moment every mile. I took it in stride and survived, of course.

I even stopped at the Stonehenge replica at Maryhill. This was my first visit, though I've wanted to for many years. I did NOT know it was a WWI memorial, built in the early 20s. I recommend the stop, near the US-97 bridge crossing the Columbia.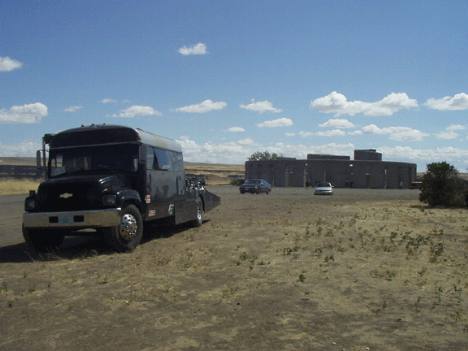 Few outside of eastern Washington know of the Stonehenge replica, a WWI memorial, built on the bluffs above the Columbia. The scenery is beautiful, and includes the river and orchards below.
I found a lot more horrid road construction east of Vancouver, and of course hit right at rush hour. I then sat in a parking lot and called my friend Sherrie Gergovich and she came and we had a nice dinner together. I then roamed on to find a motel, as close to the storage unit I would unload as possible.
I did laundry, regrouped a bit, and slept.
The next morning, I headed for the U-haul in Hazeldale, not only where my storage units are but I sorta decided to grab the biggest trailer U-Haul offers and haul a few more things than I could get into the truck. But, the day got long and I discovered something. The U-bolts that hold the rear end in were loose. They needed to be tightened before I went on.
I emptied one complete storage unit and knew there was more in another than I could get in their 6x12 trailer. Between the loose U-bolts and the too much to fit, I passed on the trailer.
Also, I helped a little old lady -- so frail she was a tiny sack of bones. She called to me from a car and asked if I'd dealt with U-Haul before. Then she told me how rude she'd been treated and that her son was in the hospital in a life-threatening situation (I got "aids" between the lines) and she couldn't find or get into his storage unit. I found it, and tried all of my keys. No good. U-Haul didn't have a master key nor bolt cutters -- they told me that but I don't believe the latter. So, I sent her off to a locksmith a few blocks away and when they returned and she'd paid "$52 for him to wreck her lock" I got the stuff and loaded it all in her car. She'd driven down from Edmonds and I truthfully don't know how she could have made the return trip without oxygen. I think getting mad at U-Haul gave her the wherewithal though. She thanked me profusely but I turned down her suggestion that she pay me. The only bad part of the Samaritan act to me was that it put me way behind in time and I was really rushed to get done and out of U-Haul by their 7pm curfew.
Just about 6:20pm, I received a new parameter. A guy came and said that the storage units closed at 6:30. I really rushed to shove everything outside and get the one unit cleaned. I made it by about 6:32. Whew.
There was another chapter during the day surrounding a very irate couple that involved the police, a few too many threats, and more swear words than I'd like to hear again. But, it was basically only in my peripheral vision and luckily I never became involved.
The whole day went relatively OK. I worked too hard, fersure, and never did eat lunch. But, the truck was full of stuff.
I mentioned the Oregon Coast, less than a hundred miles away, where many of my family were vacationing. And, my sis Eileen was driving down that night to join them. She called about 10pm to say she'd arrived in Vancouver, was staying the night with our mutual friend Sherrie, and we should have breakfast together.
The next morning, Thursday, we chatted by phone a couple times, and I decided to head for Jubitz Truck Center, just south of the I-5 bridge over the Columbia. It was not easy to find but I managed. When I explained my plight, I was told they could check/repair the spare tire but they could not tighten U-bolts. So, at their direction, I walked across the street to a repair place and was told they were busy but to come on and they'd work me in.
OK, so I maneuvered around, dropped the wheel/tire, then maneuvered across the street and parked. A guy smilingly walked out to meet me. I thought he was going to direct me to bring the truck closer but instead he directed me to another repair place -- they couldn't (or didn't want to) do the five-minute job. I headed off to find it but couldn't so pulled into another spot to ask directions and turn around. The guy said, "They're over there but what is it you need?" I explained, he directed me to spin around and back in, a guy rolled under and had the U-bolts snugged up tight within a very few minutes. When he was done, the first guy came out and waved me away. I insisted on paying, but he refused. I finally pressed $10 into his hand and said, "Buy beer for the guys..."
Through all of this, Eileen and Sherrie were following me around. We then went back, had breakfast, and checked on the tire. The guy that specializes in split-rim wheels was not there so we quickly decided to leave the truck and I'd ride out to the Oregon Coast with them. Corky's family were there for their annual vacation, as well as my mom. I grabbed a few clothes and off we went. Halfway there, Corky called and reported they were at the famed Tillamook Fair, so we stopped there on the way. That was a great time. Not only did I have Tillamook ice cream, but watched horse races, checked out livestock, crafts, booths, people AND the highlight of the day, the pig and Ford races. Seriously.
This is a "sport" where a race is run between semi-stock albeit stripped 23-27 Model Ts for three laps of the half-mile, dirt oval. There are a couple catches. First, the drivers line-up on the side of the track. When the gun sounds, they run across the track, reach into a bin, grab a live pig, run to their car, crank start it, jump in, and head off. At the completion of each lap, they must stop and change pigs. Stop their cars. Put the pig back. Grab another. Re-crank their T, hop in, and take off. This might sound a wee bit on the hokey side, but it is an extremely entertaining form of motorsports. I'm sorry I left my little digital camera in the truck.
Oh, did I tell you I had my hair painted fluorescent colors at the face-painting booth? That was fun too, though my family seemed somewhat hesitant to sit or walk near me the rest of the day.
Friday was a wonderfully perfect day. The dye washed out of my hair, we walked on the beautiful sand of Rockaway Beach, packed up and loaded out. The family was originally going to stay two more days, but the whole Harvey clan was headed in different directions, and Eileen took mom home with her.
I picked up the truck -- the tire was split from someone running it underinflated so not repairable. I paid a $7 get rid of it fee and threw the wheel on the truck. I then proceeded through very heavy traffic the 50-60 miles down to Woodburn. It was already 7pm, so I quit for the night.
Reason?
A good friend, Bill Childs, let me park my 66 Belvedere behind his chassis shop. He also had an unstarted project of mine, a 47 Simca body. My plan was to load them Saturday morning and be a long ways down the road by midday. I called, only to find out that Bill was headed for the "Oldies But Goodies" race at Woodburn Dragstrip to hang out with Jim Taylor's A/GS 38 Chevy. But, if I came early, we'd see what we could get done.
He called at 7:30am Saturday and I jumped into action and drove right there to his place in Molalla – about twenty miles east of I-5 – I arrived by about 8:30. We were to load and I'd take him back to the track.
I surprised myself by finding the place and being able to back right in to a rather narrow drive. I surveyed the scene and my heart sank. I had decided to try to load the Simca on the truck sideways and my Plymouth behind it. The Simca was buried in a shed behind a zillion things. The Plymouth was in a field with deep grass/weeds surrounding it.
I climbed into the Plymouth and of course, it was as dead as dead can be. We pulled it out of there with a cool little diesel 4wd tractor and hooked it up to a charger after cleaning battery posts, etc. Then we took to moving enough stuff to unburden the Simca.
The body was far heavier than I remembered and the effort necessary to get it to and on the truck was huge. Bill and I were helped by two boys that happened on the scene and finally it was secured. I chopped about a foot off the front of it so as to get closer to the eight-foot width of the truck.
Back to the Plymouth. After about 15 attempts, even using starter fluid, there was no positive result. Then I shorted (bumped) the starter and things got better. I finally decided that it was out of gas too so poured a couple gallons of special truck gas in and wham, it lit. So, I drove it around and got it lined up with the truck. It was the first time I'd seen the ramps and they were spaced almost too wide for the track of the Plymouth. That is another modification that'll have to be made before the FC will go up on it.
After checking everything out I began the slow drive up onto the truck -- well faster than slow but cautious nonetheless. And of course, just as the front wheels were on the truck and it looked like smooth sailing, the trailer hitch dug into the driveway, the rear tires clawed for bite (in gravel) and progress halted. Damn. The car also killed and would not restart.
Had we considered this possibility, we would have backed the truck up about six feet so it was on pavement. Hindsight.
We jacked things up. We added wood under the ramps. Another concerted effort to say the least. And, with each attempt, the car died. I added more fuel, thinking the angle of the car was not allowing gas to reach the pump.
Finally, the car was on the truck, borrowed chains were in place and I was back at the motel. It was 1:30pm. The ordeal had taken nearly six hours. The lady behind the desk looked over her glasses at me while I explained my situation and said matter of factly, "This establishment has strict rules on check out time and you have already been charged another day." I said "OK," went up, took a shower and fell asleep.
I probably should have made an appearance at the track but just didn't feel up to it.
Did I tell you I got stung four times while dabbling with the Plymouth? Wasps were not amused at me attempting to relocate their home.
I also learned something new. There are no grocery stores close. I tried to buy lettuce -- a head, shredded, whatever -- so as to eat salad in my room. I went to three fast-food joints, McDonalds, Burger King, Taco Bell, all within sight of this motel. Though I offered money, there was no way for them to charge me, so there was no way for them to make the transaction. The conversations were actually amusing.
I fueled and oiled the truck that night and was asleep by 9:30pm. I wanted to leave early, and decided to make it to Weed or Shasta, California that night

I rode along fairly well that Sunday morning, making gas stops and food stops with relative ease. I tried to reach a friend, Korey Wilson so that I could check on the progress of his restoration project, an injected twin northwest fueler called "Sweet 16". But, he was off fighting forest fires, the evidence of which obscured much of the lovely scenery in western Oregon.
I decided to stop to see Don Ewald in Grants Pass. Coffee, fuel and a break. I mentioned to him that since Roseburg, the seriously undulating road had told me one thing --- the truck's inadequate brakes had gotten worse. He suggested a racer's shop just a block away so I decided to stay over and have the whoa power looked into before attacking the Siskiyous with such a low chance of survival. It was 102 degrees here, down locals said, from 105 the previous day.
I was at the shop – Specialty Auto & Truck Repair -- at 7:45am, Monday. Norm Scott met me with a headshake. "Got too much on my plate..." he said. But, after a schmooze, including asking about all his Mopar toys, he put a man on tearing it down to see what was wrong. After a real wrestle to get things apart, we discovered the front brakes to be toast, with not only cracked and glazed lining, but about a pound of brake dust in each drum. Asbestos dust is similar in nature to graphite -- very slippery. So, it is not hard to rationalize why the brakes had a very hard pedal but no effectiveness.
Norm ordered shoes (from Medford) and I headed for breakfast with Don and "AJ" Ewald. While eating breakfast at Elmer's, we experienced some of the slowest service ever. The whole place seemed off kilter. Late in our stay we found that an hour or so before we arrived, the place had been robbed! By a white male with bleached blonde hair! Luckily for me, he was in a Toyota Camry and not a giant ramptruck but still. The story made the TV news.
It was apparent that I would be here again overnight so I let the motel know. I called the shop at about 1pm and found out the brake shoes were the correct ones. In the afternoon, I worked on some correspondence, went to the PO to mail it all. Then I wandered around a little and headed for the shop again. It was 107 degrees -- the hottest day of the year so far! And VERY smoky! The fires were within 20-25 miles.
I arrived at about 3:30p and the guy was struggling heavily. The adjusters were frozen solid – probably from salt on the winter Wisconsin roads. They finally came loose. The brakes appeared OK but needed adjustment and to have the wheels reinstalled. We discovered a couple bad plug wires, and those will be replaced. With eight cylinders and brakes, I planned to go on Tuesday morning.
When I arrived, I noticed two small puddles, one under each brake drum. My heart sunk. When replacing brake shoes in old brakes it is always a good idea to replace or rebuild the wheel cylinders. It was bad news.
The truck had its new shoes but the wheel cylinders had leaked so new ones were on the way overnight from Portland. Damn. Luckily, the shoes were pulled off and cleaned up before becoming saturated with brake fluid.
We dinked with the engine a little and made it run on 7-1/2 cylinders. It seemed far happier than it was. It had burned plug wires, at least one totally fouled plug, crossed plug wires -- I have no idea why it ran as good as it did! It was 113 degrees!
I tried to move to a better motel but it would have been double the price so stayed another night.
The next morning, after three full days and $550 in parts, the brakes worked no better. Norm drove the truck on our test ride and almost clouted a couple innocent cars stopped at a light! We made a few-mile loop and he tried to burnish in the brakes to no avail. When we got back, the engine was steaming but I chalked it up to the abuse he'd given it and to the fact it was 111 degrees.
When I got to the motel, I checked everything and topped off the water, and filled the water jugs. I parked carefully, packed and readied for a major jaunt. I was very concerned about the poor brakes but decided on extreme caution as a travel ploy. I barely slept from worry and continued mulling over the various scenarios of stopping a runaway truck. I just tried to convince myself that "I will take it extremely slow."
I set off at 6:30am and sailed along like nothing. It was a beautiful morning. The truck was singing, I was singing. I assured myself that if I just paid attention, and geared and slowed down, I'd be OK.
I breezed past Medford and Ashland, sad that so much beautiful forest was burning. The fire had gotten within about 2-1/2 miles of my beloved little Ashland the night before and I could see a great deal of fire apparatus from the freeway.
So, out of Ashland begins the serious uphill pull, fully expected. What I didn't expect however was that for the first time since I saw the truck, the temperature gauge began move across its travel. At first, I assured myself that since little else on the dash worked, why should I believe the temp gauge?
Then it began to soar, climbing beyond a comfortable range. It seemed to be somehow attached to the speedometer. The slower the truck went as it tried to claw its way up the mountain, the higher the temp gauge climbed.
Finally, I pulled over at one of those wide spots you see along the big hills, and began pouring water in and on the radiator. I was beside a little trickling stream, full of sparkling clear water that I was only happy to have. When I got the temperature under control, I made a decision to yank out the thermostat. Surely it was stuck. At least partially closed.
But, after my hour there, I only made it a few miles before I went through the whole scene again, then again and again and again. I must have stopped 15 times and poured five hundred gallons off water through it.
I talked via to Norm at the shop where we worked on the brakes. We had also done a mild tune-up, awakening two sleeping cylinders --- #1 had been seriously oil fouled and may have covered up -- band-aided if you will -- an engine problem, whether intentional or inadvertent. By having the cylinder fully operational and a head gasket that was blown or ready to blow in that area, and adding load, climbing, hot weather, etc., it went.
To explain a head gasket, it is very thin, maybe the thickness of the cardboard of a cereal box. It is clamped between the cylinder head and the block, or crankcase, by a whole bunch of bolts. These gaskets must perform several duties. Their main function is to keep combustion chamber happenings sealed -- that is where compression happens, and compression means power. Without some compression, internal combustion engines cease to function. A secondary function is to seal lubricating oil and coolant away from combustion and each other. A blown head gasket could just mean lost compression in one cylinder, and a loss of overall power slightly higher than that one cylinder produces (slightly higher because the remaining cylinders are forced to drag the dead one). Or it could mean that water is going in the oil and vice versa, or combustion gasses are blowing into the water, which is what I have been facing. The water actually goes into the cylinder, puts out the fire, and the engine is a V-7 operating a single cylinder water pump. It pumps the water right through, quite quickly actually.
I actually called 9-1-1 once, but after talking to a girl in Atlanta that asked me to spell YREKA three times, and her telling me it would be $200/hr to tow me, I went back to my pouring water routine.
I also called Larry at T&D. He explained that I might have gone backwards with my pulling the thermostat. With an old car like a 55 Chevy, that would be fine but, current vehicles shove water so fast that w/o the thermostat it doesn't stay in the radiator long enough to cool down. OK. Point taken, lesson learned. I began to contemplate all the possibilities.
I made it to Yreka and skidded to a halt in front of an auto parts store – with a machine shop and a machinist on duty. I bought a 180-degree thermostat, a 13# radiator cap, a gallon of antifreeze, rerouted a couple hoses, and went for a test ride. BTW, I also tested the radiator to see if there was a problem. There were bubbles in the water with engine running and they were assuredly exhaust gas. I knew at that point that I had a blown head gasket. BUT, after test-driving it, and topping the fuel tank, I was quite certain the engine was running exactly the way it had across the country. It didn't overheat on my test ride so I rationalized that by taking it easy, I'd be fine.
So, fat, dumb, blonde and happy, I charged on out of Yreka and away from ANOTHER machine shop on a mission -- to make Carson City.
It seemed to run sweetly. But, about 20 miles outside of Yreka, but still 8 miles from Weed, the temp gauge soared and I pulled off to another watering venture. I had sat in Yreka long enough to eat lunch and to do the fixing so the engine cooled down enough to get further but not all the way.
As a sidebar, I believe I know what has happened to all the missing socks in the world. They are along I-5. At virtually every stop I made, I saw many socks, mostly white, all over the shoulder and roadside. One of my good friends, Mendy Fry, has another theory.
I limped into Weed, stopped at a Motel 6 and managed to talk them into water, then struggled another couple miles to where a repair shop and a NAPA were side-by-side. I told my story to the owner of the shop and he said it would be two weeks. I said I could do the work and he spoke up and said he'd loan me tools if necessary. So, I chose to stay. I went next door to a motel and checked in. I explained the situation and the owner lady told me no problem. The way the rooms are laid out I could get the truck next to my room and totally out off the way. There was a pretty steep incline to get to the room, and of course halfway up on first attempt, the truck chose to backfire through the carburetor, quit and leave me coasting backward. I really thought that was the end of it. I would go blindly, unstoppable, until the truck found some major object -- building, tree, car, truck, etc. But, I managed to whoa the beast, and of course I tried it again and was successful.
I then walked next door to NAPA and checked to see if they had the required gaskets to do a topend rebuild on a 454 Chevy. I found it hard to believe but they didn't so ordered them. After unloading a little and shifting some major things around so that I could get to my tools, I began disassembly. I then did laundry and ate an OK dinner. I was totally out of clean clothes -- again.
At 6:30am, I was out working, as quietly as possible. At about 7:30, I met a lady that travels with three dachshunds. Actually I met them and their barking made my attempt for quiet moot. There were a few troubles, but my goal to remove the heads by noon was almost met. There are many things in the way to remove first, and this truck is big. One has to climb up and on to work on anything. That means if a tool is dropped, you don't just bend down and get it. Nope, you have to climb out and down. The wheels/tires are huge and 100% in the way.
I took a break and had lunch, then cleaned everything up and began reassembly, or so I thought.
First, I was hassled by the motel. This place hadn't been adequate since 1956, and is currently a dive at best. They blamed me for spots on the carpet that I wished I'd complained about when I arrived. Also, I was to clean up the whole parking lot whether I made the mess or not. And, I was being seriously pushed about getting out of there by 11am the following day.
After that crap went down, I fought trying to get the left cylinder head back on. I couldn't lift it high enough, I couldn't keep the gasket in place and on-and-on. I tried it a dozen ways and times. The left side of the engine is so close to the firewall there was no easy way to install the head. Everything was in the way – that firewall, the steering box and shaft, the wire loom, and always those huge tires. Also, I came in contact with the cable retaining devices that keep the nose from tilting too far several times, making the nose slam down, on me. Why it didn't break my neck I don't know.
And, the gaskets I'd purchased refused to lay down. Refused. I tried a little silicone. No dice. I could not get the head in the proper position to get it on the engine.
I walked away a couple times. I finally formulated a plan.
I went to NAPA, bought a chunk of threaded rod, cut it in half and voila, I had a couple little locator studs. Then, I found a couple little pieces of 1x2 board. I installed the head gasket on its pins and placed the 1x2s on top of the gasket. By putting all my remaining strength into my effort, and by hanging the head on one of the studs, I was able to sit it down on those wooden blocks. Because there was an inch gap between the head and the gasket I was able to make sure it was in the proper position before slamming the head home. Just accomplishing that was a major victory. Bottom line, I made it happen.
Since not as much is in the way, the right head went on great. I torqued the heads, set the valves and installed the intake manifold. I quit at 8pm, cleaned myself, ate dinner and fell onto a not very good bed. I was beat.
I have to tell on myself a little. I'm certainly not the first or will I be the last that has pried and tugged and screamed and cussed ONLY to find one head bolt still tucked amongst the rocker arms. I did the same thing on both heads… You'd think I woulda learned after one side! Nope, did it both sides.
Since it appeared that it would take until noon at least to get the truck finished, w/o any problems, and of course there was the yard cleanup. So, it appeared that I'd be staying on another night there, no matter what.
The next day, at 3:35pm, just 35 minutes after my goal had passed, the .030-over 454 came back to life with a roar! I walked away with tears in my eyes. They were certainly joyful tears, but also from tired, and from a feeling of accomplishment. Iiiiiittttttt wwass aaaaaallliivvvve aaagggaaiinn!!!
Yes, I had bruises, cuts and other abrasions that I'll be living with for awhile. And the soreness in my knees, shins and feet was incredible. Crawling and climbing up and down for every task gets very old.
But, to the very best of my abilities, minimal tools and location, the task of a top end rebuild of a big block Chevrolet in a mammoth truck was complete.
I need to tell on myself again, after carefully installing a new rotor and cap (an HEI Chevy and I reused the coil), new plugs and wires, there were other things done after that too, I cranked the engine and was disappointed not to hear even a pop. I climbed out thinking I must have missed the timing by a huge margin than noticed I hadn't plugged in the wires to the distributor – kinda like leaving the coil wire out! Duh. After that, it lit right off and ran smoothly. I left well enough alone, checked for leaks, topped off fluids, and even scrubbed the parking lot!
Yes, it was very hot. Yes I struggled with a few things. The huge alternator needs some serious mounting help. It is almost impossible to maintain the way it is now. But, all in all, I feel I accomplished an immense task on my own.
I have a question. Should I call the truck seller and be PO'd or at least very inquisitive as to why this might have happened? Did he know the head gasket was weak? Did they take a compression check, find a cylinder weak and send me, hoping for the best? Or, did I just overtax this thing in heat, climbing, etc? I probably pushed it harder than it has ever been pushed, and certainly have it loaded heavier than it will be when I race off it next year. Those who have traveled in the Midwest and east know that 111 degrees in western Oregon is a tall order, considering the climbing involved. No matter what, I still feel I got a good deal on the truck and it will serve the funny car well.
I hoped I'd had just about enough "fun" for one adventure and smooth sailing would ensue. I packed and readied to complete the trip.

This is a blown head gasket -- the blown place is at about the 9 o'clock position of the circle, the engine all apart, and of the sun rising. That is smoke obscuring it and Mt. Shasta. If you haven't been to/thru Weed, the view of the mountain is close to incredible.
I never slept that Saturday night, overly fatigued and so worried about what I might have left loose. I ached, physically and mentally.
I had carefully turned the rig around and parked it so that nobody could possibly block me in. Of course, somebody did. Luckily, that someone was first to leave, a pickup with two ATVs in the back. I planned to pull out at 6:30am; it was closer to 7:30. OK, that's close.
I drove through town watching the temp gauge and listening for anything that might be still awry, then stopped at the big travel center in south Weed where I fueled got coffee and noticed a low tire -- left outside dual. I moved to the truck islands and filled it with the slowest air hose I've seen. No complaints – my alternative was a bicycle pump in the trunk of the Plymouth.
Then, I was on I-5 for about 5-6 miles. Very soon, on a downhill run as I was watching the mirror while a truck/trailer passed me, I caught a glimpse of movement ahead on the right. A deer had decided that moment was time to wander across. I touched the brakes but knew that was futile – no horn either. The guy in the truck headed for the left shoulder and I awaited the deer's decision. I hated to make Bambi an orphan but the whole situation was out of my hands! She looked our way, hesitated, and returned to the right shoulder.
One heart attack down. (How many do we get?)
Moments later I turned east on Highway #89 and started the up-and-down motions on the through the woods two-lane, aimed at Susanville. I was fighting a tune-up problem. The engine had no power so I knew I'd missed on the timing. Remember, I was happily surprised the engine had actually STARTED at all!
I pulled over several times, got out, tilted the nose, loosened the distributor hold-down bolt, twisted the distributor one way or the other, retightened, climbed back in and went on. If it pinged, it was too advanced. If it backfired, it was retarded. (Please, no comment here about the driver.) I spent quite a bit of time doing this but was still rolling along fairly well. To be moving at all seemed an accomplishment.
I passed several small sleepy little towns but NO gas stations. There were a few, but long out of biz. The infrequent signage kept counting down the miles to Susanville, and to another town, possibly Mill Creek but I'm not sure. I knew Susanville was far beyond my range, but this other town appeared to be very close. Then, I came to a "Y" where Susanville was left and the other town was right. When I rounded the very next turn, my heart sunk. "Next Services, 51 miles."
If I were posting such a sign, I would bolt it to the wall of a combo gas station, bathroom, store, and fast food joint, not in the ground (already) 75 miles from nowhere.
So, I knew I would run out of gas it was just a question of when. And, I knew full well that the combination of climbing slowly and incorrect timing was NOT lending itself to the best mileage. I watched the mileage signs count down for a rest stop but the inevitable hiccup occurred 1-1/2 miles too soon so I grabbed a wide spot before it died completely. I had hoped I could make it to the rest area and have somebody at least hold the funnel. Nope. I chose to pour five of the six gallons in the tank and proceed. This too was to prove a mistake.
Twenty minutes later as I turned left and went by the "Susanville 5 Miles" sign, the truck gasped again, and again I dove for a wide spot and dug out the gas can and funnel.
In town, I was able to pump 25.3 gallons into the 25-gallon tank. I looked everything over and ate at a swell place called "Black Bear Diner." Very good food and I even bought a T-shirt there. Everyone assured me that it was just 85 miles of mostly flat terrain to Reno and I felt that I was home free.
As I drove along singing a song I could tell that the timing had slipped again. Even at a steady 65mph, it began to subtly backfire. When the need for more throttle arose, it backfired harder and I began to look for a decent pullover spot. The technique is to back off when it backfires or pings and get just below the "need" of the engine. This time, it was more severe. But no place to get off! I managed to pull a hill and get out on a flat area where I got my speed back up to a reasonable rate watching intently for any wide, flat spot to land the beast. I watched in awe as a couple backfires (this is a BIG flame and report that belches straight up out of the carburetor) distorted the fiberglass nose! There were two big ones in a row and then the most gawdawful noise. A huge bang followed by a sort of machine gun rat-a-tat! I shut the engine off and coasted for about a mile until I found a wide spot, got over and sat, knowing full well the hideous sounds were made by one thing. The engine had thrown a rod.
I sat with my head in my hands for a few minutes and said over and over, "What else?" Then, I climbed dutifully out for the umpteenth time and looked to my right to search for the telltale stripe of oil that certainly had followed me to this spot. Nothing. There was nary a drop under the engine either! I crawled around in search of the gaping hole I was certain to find. Nothing. I walked away, in search of an answer. A few minutes later, I walked back toward the steaming hulk (it had gotten a bit hot again, leading me to my broken rod theory) and almost instantly spotted the #8 spark plug hanging from its wire but not in its hole.
I had learned just a month or so before that tapered-seat plugs can loosen up. In this case, I must not have tightened it enough and the continuous backfiring had loosened it fully until it shot out. That was the report I'd heard. The rat-a-tat was simply all the fuel pumping out the open cylinder.
Some may say bad about the habit, but I don't throw much away. Luckily for me, I had not thrown the old plugs away. The one in #8 had spit its porcelain off and was of no use. So, after a short wait for things to cool down, I installed the old, cleaned-up plug, reset the timing, added a little water and the engine fired again!
I grabbed gas and a raspberry/banana smoothie in Reno, made one more long pull and arrived in Carson City, Nevada at 4:30pm.
I did three loads of very soiled laundry, ate a nice salad and was asleep by about 9:30.
This will be the truck's final destination for this trip. When I can, I will get back, treat it to some TLC, and begin another type of journey.