Chapter Seven: A Few Wonderful Things Begin to Happen

Vern Scholz is restoring the Wonder Wagon!
One of my good friends, Vern Scholz from Calgary, who really wants to put together a similar car to my Nova, has been in search of a starting point. I've emailed him two-dozen possibilities, and finally he told me he was set on an early, flat-nosed Vega.
One day, I picked up a National Dragster, turned to Dragmart and instantly spied the perfect candidate. There, under the vintage section was a familiar shape – a really rare Vega panel. Underneath it said, "Wonderwagon body" and a price. I called the number and a nice voice described what he had and I Emailed Vern. A few days later I went to visit Scott Cole and the Wonderwagon near Glendale. It would take some effort, but eventually, the infamous Vega was purchased. Plans for it include doses of nitro, possibly with a steel Chevy.
One of the main problems I'll face in touring a fuel funny car in 2003 is expenses. Way back when, virtually everyone moved their racecars on open trailers or even better for the FC guys, a ramptruck. A ramptruck has always been my first choice. There is nothing that looks cooler going down the road than a funny car on a ramptruck.

Another view of the WW.
But, there are drawbacks. One, there is no space for living quarters beyond a simple sleeper. Another is that although it is cool to draw attention to the racecar, you truly draw attention to the racecar – even those you might not want to attract.
So, I made an offer on a derelict 3/4-ton late-70s Suburban that has been sitting for several years. It's a 454 and Turbo 400. The body is nothing to write home about but it seemed solid enough. And, a sad body seemed to fit in with the low buck theme. I figured I'd find a nice used 30- or 32-foot tow-a-long and build a nice cozy 8x10 room in the front with a shower, toidy and bed. Plus, as a back up, I could crash in the back of "daBurb," as I began to call it.
But I contemplated the whole thing way too much. One of my favorite analysts once suggested that I "…analyze things until they turn into dust." He was right. I do it all the time, about everything. In the case of this funny car, I hope it works to my advantage.
The rear of the Wonder Wagon.
In my spare time, I searched around for alternatives. I decided a small 1-ton motorhome might be a good alternative -- if I could find one with big block power or maybe diesel. I would still need a trailer with that plan, but a 20- to 24-footer would be adequate if living quarters were elsewhere.
So, why am I so obsessed with living quarters?
It's strictly expense related. If I have to spend every night of my tour in motel rooms, I can't even begin to afford this venture. Simple fact.
OK, so the overanalyzation wasn't getting me any closer to tow and support vehicles.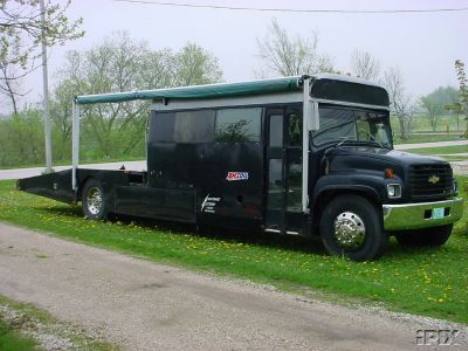 How to tow the Nitro Nova is no longer a problem.
I looked on used car lots and in the paper, even searched a couple online sites for trucks, trailers, motorhomes and Star Trek-style transporter beams. One night I decided to check eBay. After looking at station wagons, racecar trailers, and reasonable motorhomes, I stumbled onto a prize. A mid-70s Chevy 60 series Chevy with a big ramp, tons of storage, and about an 8x12-foot box. OK, it's really a schoolbus conversion, but it does have a diamond plate ramp, a fairly fresh 454 and a big-truck automatic, air-over-hydraulic BIG brakes, 20-inch wheels, and the ability to do and be just about everything I need/want. The bidding had not reached $2,000 yet and I asked what the reserve was. He said "$4,000." I asked if he'd take that for it and he said, "Yes."
There seemed to be only a couple things that would make it better -- if it was free and was next door instead of near Green Bay, Wisconsin!
Remember what I said about analyzing things? Of course, after calling about the truck a few times, and telling the person on the end of the line I'd call back the following day, when I did, he said it was sold. Damn! I asked the man to please take my number just in case the deal fell through. That was a Friday. My heart sunk. I called again on Saturday, and he said that the deposit had arrived. Double Damn! I called again Monday and the buyers had backed out, saying there was rust on the body and the inside wasn't quite finished the way they'd hoped. My only question was, "For $4,000, wwhhaaaattt did they expect?" but also quickly said that I'd take it, and promised to send the deposit the following day. I did, and soon I'll be making a trip to the tiny town of Kewaunee, Wisconsin to pick up my rolling home and support vehicle.
Explore.

Dream.

Discover.