Chapter Four: The Chassis Goes West, Too
The chassis of the Nitro Nova was shipped from NC to AZ, then placed on this pickup for the last few miles of the trip.
After several conversations with Bob Gilbertson, and several with his sister-in-law Sandy who is a major player in Bob's Charlotte-based Temco Truck Equipment, it just didn't sound like he was going to be able to deliver the chassis west. So, being a major manufacturer that ships stuff constantly, it was decided to dismantle the chassis and "truck" it across the country. Within a couple days of that decision, Bob's shop guys strapped everything together and sent it.
It wasn't pretty or optimal, but driving at a snail's pace kept the precious cargo intact.
From the pictures of it after it came off the big rig in Winslow, the term "sketchy" comes to mind. But, in retrospect, the precious package made it with very little damage. And the wheels/tires were all still part of the package!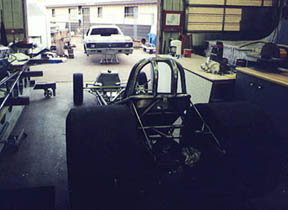 The Nitro Nova body and chassis face to face for the first time.
The pickup shown in the pictures was just an interim vehicle. The palletized chassis was pushed off the truck at Cake Chevrolet and onto the pickup, which was then driven slowly a couple miles to Ron's where Chris Stinson reassembled it and allowed the two major components to view each other for the first time. He also introduced the chassis to an ancient twin called Laff Clown being restored there.
The Nitro Nova lined up next to Stinson's restored Laff Clown digger.
Upon initial trial fitting, Chris was not impressed by the way things didn't match up. I was still optimistic but was at that point not hands-on the way Chris was. He's pretty sharp and he could tell things just weren't lining up. Plus, it was the first time the narrowness of the Nova body was truly considered a liability.
Explore.

Dream.

Discover.