When we last left our hero...
Time goes by for many reasons. In a project like this one, there are excuses of work and illness and weather and distance. But the biggest one of all is lack of funds. Building a fuel funny car on zero budget is rather frustrating.
When Chris Stinson let me know the tin was completed, I tried everything from begging racers who might be going by, to trying to rent something, to trying to work deals with local folk with trailers. Ron Miller, who has been patiently awaiting the car's departure, was trying to come up with a plan to deliver it last fall - just about the time fuel costs skyrocketed.
Last year, I was finally able to replace POS Mustang. Many of you will think I've lost my head when I tell you that I was able to talk Honda into selling me a new Element, but it is so. I looked at new and used, and this funky little "box" seemed to fit me best of all, right down to it having no carpets. It took awhile to get it because I insisted on having AWD and a stick shift. I finally told the dealer that I didn't even care what color it was just as long as my two main parameters were met. Anyway, though they really didn't want my nearly 200K Mustang, they took it as part of my downstroke.
One of the reasons I wanted this car was that my 90-year-old mother lives about 500-miles away and I need reliable transportation year round. A drawback is the lack of towing capacity - set at 1500-pound maximum by Honda.
Soon after I took delivery on the Element, I ordered a hitch and a wiring loom. The former bolted right on, and though I followed the instructions by removing a great deal of the right side interior panels to reach the supposed plug-in, it wasn't there. It seems they had sent me a loom for a 2004. I returned all the interior panels to their proper locations, and the loom to the manufacturer.
Now, before you ask, the ramptruck bus is still sitting, awaiting my complete overhaul of the brakelines and hydravac system, Plus, it would be cost-prohibitive to drive it roundtrip Carson City to Winslow to pick up a 600-pound package.
That said, we now have our algebraic equation. I needed a trailer that weighs less than 1,000 pounds so that the 1500-pound GVW of the Element is not exceeded. I searched and asked. I looked in backyards. I scanned utility trailers, dollies and all manner of snowmobile-jetski-motorcycle trailers. I searched the classifieds. I inquired at commercial lots. I thought, conjured and dreamed. Should I buy an axle and build what I needed?
On the way back from LA after the holidays, I thought a great deal about just how to go about this - I could not allow this dormancy to go even another month. My trip was delayed a day due to avalanches that buried Highway 395 near the ski resorts at Mammoth Mountain, and I was forced to take an alternate route that took me through several small towns. I spied small trailers and my mind churned. Just a few miles from home, I spotted an old boat trailer in what had been a car lot and placed it in my memory. A day or two later, I drove back there and made inquiries. I figured if the owner wanted less than $500 I would consider it.
Well, it was one of THOSE stories. The property was adjacent to a transmission shop. The owner, John, told me that a guy had once leased the property and done OK with a car lot but was long gone and had left him with a few derelicts. And though the trailer owner was now somewhere in Mexico, he called in from time to time.
Several calls later I heard what I wanted to hear - $250. I bit my lip knowing that the real owner might be impossible to reach and told John since I didn't want all the rollers and other boat associated junk, I'd go $150. John said he thought that would be enough so I drove out and gave him a $50 deposit with the proviso that he would call me the instant someone removed those rollers and other items off the trailer. Two weeks later, I hadn't heard a thing. So I drove back and John told me the owner of the trailer had some sort of local handyman trying to clean out the old car lot and that guy didn't think I was serious. I wondered aloud why I had made a deposit, and once again told him to call me the instant the rollers were removed. That was a Wednesday, the call came Thursday and I raced up to finish the transaction.
After doing that, I went on-line and purchased the correct Honda wiring loom. Instead of $28 like the previous pieces, it was $168! That included overnight shipping. Hmmmm. These folk really don't want people towing trailers! I had delusions of completing the trailer and heading for Winslow Saturday.
I then went to DMV. When the lady at the counter heard I was rebuilding a boat trailer into sort of a utility trailer, she issued me a 30-day temporary permit and told me to bring it back when I was finished. OK.
With temp in hand, I headed for the trailer and towed it to T&D Machine sans lights - those had somehow been borrowed on the no-return plan.
OK, so Friday was going to be the day. Get and install the loom in the Element. Find lights and wire for the trailer and install same. All would work perfectly and I'd head for Winslow at 5:00am Saturday. Great plan.
I called around to see what was available as to wiring and light "kits" for trailers. By 7:30pm Thursday, I was no further. On the way home, I went to Lowe's and looked at what they had and hated them.
Friday, I found that NAPA had so many choices I couldn't make up my mind. I then went to work and further inspected the trailer. The wire and "flat-4" connector still remained. So, I really didn't need a "kit," just some lights and stuff. Back to NAPA. Lights, reflectors, shrink tube, clips and back.
When shipping arrived, of course the loom wasn't there. An email, a returned call, an apology and a promise for Saturday delivery sent me back to the trailer. After months and months, what was another day?
With borrowed drill motor and soldering iron, friend Sheldon Miller (part of the T&D sales staff) and I fell on the trailer. In not too long, we had it completed. But there was another problem. Although the tire treads looked adequate, I showed Sheldon the extensive weather checking in the sidewalls and he shook his head. The wheels are 14" and appear to be from a 70s Ford midsize, maybe a Torino.
Keep in mind that this trailer is an interim tool to recover the car and little more. To invest heavily in something I'm going to "off" quickly seems rather fruitless.
The last time I bought a trailer tire was in about 1979 - they were 8- or 10-ply real trailer tires and cost me roughly $40 for the pair. Enter the year 2006. I figured I'd roll the tires into the back door of Wal-Mart and for $29 each, have some tires. Hahahahaha. Without telling exactly how many places I called, let me say that bias-ply trailer-spec tires are unavailable locally (I found them on the internet for $75 each), and that my phone search took me into about noon Saturday.
Yes, the loom arrived and one look inside the box sent my non-electrical head spinning. I had heard the term "plug & play" and this was far beyond that!
Another of the group of T&D personnel, long time lakes and Bonneville racer Bob Beattie, and I headed first for Carson City Used Tire & Wheel, where for a mere $64.80, I would be handed two size-matched used F-78x14s, but they couldn't mount them until Monday. I shook my head and went to Pic-n-Pull, paid my $1 admission and began to scrounge on a very windy Saturday afternoon. Of course I was searching for two mounted Ford or Mopar rims which got me nowhere.
Finally, I stared at a late Camry that had encountered some sort of immovable object. Surprisingly, it had 14" tires and the rears looked good. The right rear had a wow in the wheel but the tire looked unblemished. Then I had to scrounge for a lug wrench. That took awhile but Bob found a T-wrench a few rows over. We wedged another tire under the one I was wrestling and off came the lugs. Bob found a 15" mid-50s Ford truck rim that he needed for his pair of 32 Fords - one roadster and one 5-window - and we were off.
Of course there was an argument at the pay window because the tires I was getting "looked new." I quoted the posted price of $14.99 for 14" tires and wouldn't budge, also said I didn't want the wheels and would bring them back. I was charged $3.99 each and hoped they would actually take them back and give me cash.
Back to T&D and we transferred all the wheels/tires to Bob's truck and he headed home. It seems he has a tire machine in his backyard and I was to meet him Sunday afternoon to help with the mounting.
I went home and paid bills.
Sunday, hours before I was to head for Bob's, he called and said they were mounted and would I meet him at his storage unit. So, I called Sheldon, explained the complicated loom and he said come on.
Bob had mounted some skinny radials on Cragar S/Ss and wanted to bolt them on his 5-window. His storage unit is two doors from mine, and we arrived less than 90-seconds apart. I transferred wheels/tires from his truck to the Element, kind of helped as he bolted the wheels on his 32, then was glad I'd hung around for a few minutes because the built flathead refused to light. "Outta gas," shouted Bob, so I pushed, and back into storage the coupe went. Then I headed for T&D to download 14-pages of instructions for the loom and headed the 40-odd miles to Silver Springs where Sheldon and his little family live.
He looked at the instructions and the number of pieces in the box and rolled his eyes, but once we turned to, it went relatively fast. The only thing we didn't accomplish was routing the pigtail out through an OEM grommet which entails removing the rear bumper! Later.
Between plugging and tracing wires, I roughed up the wheels and gave them a coat of the hot rodder's friend - flat black.
The modified boat trailer has about $400 invested, frugal but functional. What looks like haphazard lumber is actually the "deck" already bolted down. If I keep it for any length of time, it'll get lowered.
With most of the ingredients in place, I headed for home. On Monday, I emailed Ron Miller with an update and a request for some Nova dimensions. Within a few hours, he sent them back and I mentally designed a simple deck for the trailer. Tuesday, I bought two 2x8 planks 12 feet long, some carriage bolts and safety chain and other necessary items. After work, Bob and I drug the trailer inside the back door of T&D and I bolted the planks to the trailer, as well as several shorter 2x6 planks where the rear tires of the Nova would sit.
After a couple hours of drilling and tightening bolts, I was pretty well done. The only problem I had that night was that the bolt I purchased to retain the safety chain was too short but that was cured the following morning with ease. The "buddy hubs" were packed with grease, I plugged the trailer lights into the car and suddenly, I had a way to go after the car! I grabbed straps and things out of the big truck, hooked everything up and headed for home. I threw a few items in a suitcase, went to sleep and the next morning at 5:50am, I was underway.
I rolled south on Highway 50 and happily discovered that the trailer towed well. I checked everything in Fallon at 7:00am, turned onto Highway 95, and ate a quick bite in Hawthorne at 8:20am.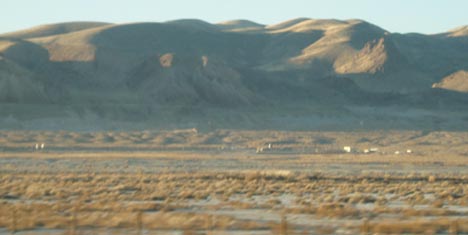 Just after dawn near Fallon, Nevada, I passed Top Gun Raceway. Look carefully, those blurry buildings are around the starting line.
The first fuel stop was in Tonopah at 10:20am, and all was still going fine. I passed through Beatty at noon, then continued on down what I have nicknamed "The Brothel Highway."
This is a lonely part of the world. When the government began testing munitions in the 1920s, they used this very area. When they needed to test nuclear bombs, it was right there. When they needed secret military bases, well, you're getting the picture. Ancient mining towns are just about the only lumps you see. It is not a place to have a breakdown, unless your greatest desire is to have some USAF fighter pilot choose you for strafing practice. Most of this desert is part of Nellis AFB, and as I cruised toward Indian Springs, I was entertained by the Thunderbirds who base and perfect their act right here.
I was cruising along at 69mph and had the little "rig" over 80mph a couple times passing semis with seemingly no problem. One of the things that concerned me as I rode along was that I built the trailer deck to load the FC going forward, and since it had no windshield, would the giant "scoop" slow me down considerably?
My plan had been based on making it from Carson City to Winslow in one day - 12 hours driving time was my estimate. When I reached Las Vegas, it was mid afternoon. I had been concerned about what route to take so involved both my good friend Buzz Baylis and my brother-in-law Tim Perman in hopes of one of them getting back to me. Both did, and both told me, "easy deal, 95 to 515 to 93." I never saw signs to 515. Whether the massive construction projects covered the signs or I missed them in heavy traffic, I missed them.
I proceeded right across town on the 15 knowing full well I was headed west and would need at some point to head south or turn around. I finally found the 146, which put me back over to where I needed to be - on the 515/93, but in stopped traffic. By the time that cleared up, I figured I must have lost a full hour. Of course, it might not have been avoidable but nonetheless, I felt I was running behind. Then, in Boulder City, I got stuck in the wrong lane and was forced to go through town instead of circumventing it. Another 15-20 minutes.
Soon, I was driving across the top of Hoover Dam for the first time in my life. What a truly awe-inspiring engineering marvel.
Many hours later, I rolled across Hoover Dam. There were hundreds of tourists - I wish I could have stopped.
The next leg was about 70 miles to Kingman, where I fueled and called a friend who lives nearby. Peter Broadribb is the guy who is restoring Gene Moody's 55 Chevy, a car he has shared with gasser fans throughout the country. We chatted, he invited me to come back out to his place, but I passed and after checking everything on the trailer again, headed on.
It was leaving Kingman and talking to my sister Shari on my cell that I felt fatigue. She insisted that I stop soon. It was nearly 6:00pm, I had surpassed my twelve-hour estimate and I was still quite a ways from where I thought I should be. When it became fully dark, I really began to fight sleep. So, at the first town on I-40 that had a motel, Seligman, Arizona, I pulled into the Canyon Lodge. Dinner was a salad to go from a restaurant a block or so away, and I settled in for the night. I did not set the alarm figuring whenever I woke up I'd head out.
At 2:30am, I sat straight up. There was something going on outside. The noise was bell-like, so up I sprang and peered through the window. It was the Seligman Fire Department. Lovely. The bell was the back-up alarm on the truck as the driver went forth and back. I put on my slippers and my jacket and checked to see what was up. No fire. A false alarm set-off by wind ... or something. I went back to sleep for a bit but was wide awake when 5am came so I got up, grabbed some coffee and hit the road.
I pulled into Winslow about 8:00am and decided to tour the historic little place. Once, it was a major railhead for Burlington-Northern-Santa Fe, and still is a switching and crew-changing spot for east-west freights. It was once a romantic stopover on Route 66, with colorful Indian ruins and souvenir sales. Of course now, few of us know no more about the place than a lyric written by Jackson Brown and performed in a tune called "Take It Easy" by the Eagles.
As I hopped out of the Element on Friday morning at Ron Miller's, I found my Nova peeking out of the gate.
I found some breakfast then headed for Ron Miller's place. It was 9:00am and he was making a slow start, so I took the opportunity to wander his tiny wrecking yard. Although it has been cleaned up some since my last visit, it is still overflowing with interesting vehicles, including several old racecars that once frequented Winslow Dragstrip, a place Ron helped organize and run during the 50s and 60s. The site of the strip is literally a stone's throw from Ron's Racing.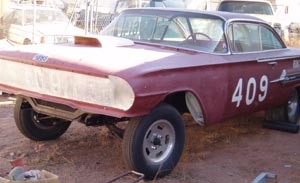 Ron's own 60 Chevy awaits a 409 and some restoration to get back on a strip.
His backyard holds a number of ex-racecars from the Winslow area, including the "Arizona Shaker" Chevelle and "Shopping Cart" 55.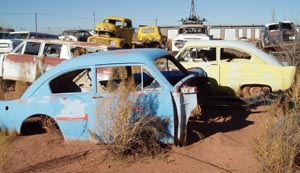 The treasure trove holds at least two Henry Js, and a great many other dream starters.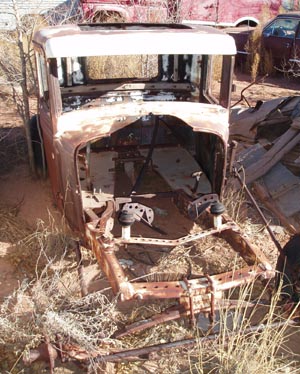 This Model A pickup once held an injected sbChevy and ran B/A. You can ask but I doubt Ron will sell.
By comparing the FC and that Camaro body, it is readily obvious how truly narrow the Nova is.
Ron's idea was to back the Element up on ramps, then use a pair of his own golfcart ramps to load the car. When we got the Element in position, I borrowed wrenches to check the hitch and ball and was shocked to find the ball was hanging by a couple threads! Potential disaster narrowly avoided.
Shortly, I was backing the little trailer into position, airing the rear tires on the Nova, and pushing it right on the trailer! I was pleased that the improvised deck built to Ron's dimensions fit the car so well. I stared at the car on the trailer, grit my teeth and said under my breath, "FINALLY!"
With the Element up on ramps, the Nova met its towing partner. The nose of the body is propped up while the chassis gets strapped down.
Helping us out was Derron Sheets, crewchief on Charlie McCall's AFC, also based in Winslow. He was a far better Boy Scout than I when it came to strapping and tying, and was much appreciated.
Soon, the car was strapped down and we wrestled to fit a second set of rear tires/wheels onto the trailer tongue, and load the rest of the various items that go with the car. Just about 1:00pm, goodbyes were said and I was back on I-40, headed west, easing the load up to speed. It wasn't long before I settled on 64mph - not too bad.
A few miles of towing and I pulled over at famous Twin Arrows, Earl Watts and I had stopped there after stretching the body and parked right by the arrows. If you compare photos, you'll note that the once great tourist stop on Route 66 has been totally closed off to motorists.
I stopped in Flagstaff, fueled and had a really nice lunch with Laurie Watts who drove the hour or so north just to rendezvous. I hadn't seen her for nearly two years. By the time I left there it was after 4:00pm and I was back to facing fatigue. I hadn't gotten much sleep the previous night and things were made worse by my driving straight into the sun. So, I stopped in Kingman at a Motel 6 and called Peter again. He said, "Hey, it's Yvonne's birthday, we'll take you with us to dinner."
Laurie Watts came to see me in Flagstaff. She has now forsaken her little dragster for Motocross photography and is doing extremely well.
I took a shower (loading in Ron's driveway had gotten us all pretty dusty), and walked a few blocks to try to find a birthday card and to work out some too-long-in-one-position leg kinks. I failed on the first item. Dinner was at Chili's, and although a couple of the dinners were messed up, overall it was a fun evening with Madbrit and his friends.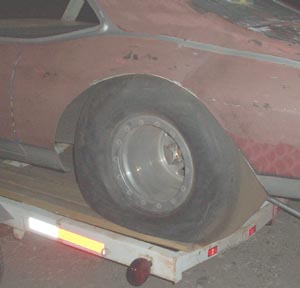 Morning in Kingman found the rear tires of the FC a wee bit shorter than they had been the night before.
It was a no alarm night again and this time, I awoke about 6:30am. When I went out to the car, I found that the rear tires on the Nova were flat. Not down, flat! Hmmm. When I had all my personal stuff loaded, I slowly crawled to a station where I found air, then fueled and was under way by a little after 7:00am.
I like this view of Hoover Dam, taken Saturday morning. Note Chris Stinson's wonderful firewall.
There is a new section of Highway 93 being constructed to move traffic off of the dam. I'm glad I got to drive it!
I stopped near the dam to try to get a picture or two, then chatted with several racers headed for a test-n-tune at Las Vegas. I handed out a few business cards and hope to hear from them for their rocker arm needs.
I found these folk parked near Two Gals restaurant in Boulder City.
When I got to Vegas, the 93 naturally turned into the 515 and traffic on Saturday morning was far easier. But as I rolled across that city, I began to worry about the trailer hitch ball. Had it come loose again? After all, it had more load on it. I decided if I saw a store that had tools, I'd try it. Or, if there were a tire store that I could borrow tools, I'd pull in.
I spotted a fairly new Home Depot but it was difficult to see how to reach it, then of course, I took the wrong exit. When I got on surface streets, they were all under construction and blocked by delineators of all kinds. I thought I could see the route to reach the store but once again, I was trapped in a wrong lane. I had a choice of forcing a left turn or to merge onto another freeway. There was a really wide no-mans land lane that I pulled into and thought I had nods and OKs from the first few drivers in the actual turn lane. So, I eased myself over to the left and figured everybody saw what I needed to do.
Suddenly there was an idiot on a motorcycle in the "hole" at a high rate of speed. He turned on the wick, and wiggled himself around the length of my rig. OK. Keep turning. I checked the mirror and was horrified to see a little white car about to try the same trick as the rider had. He was too wide, the gap was narrowing by the arc I was making, and at the last second the driver stood on his brakes. In retrospect, I was totally in the wrong, stupidly making a left turn from the right lane and hoping everybody would give me room. This fool was weaving through construction-restricted traffic at about 20mph too fast and was about to run into the back of the Element. I stabbed the throttle, turned the wheel to the right and watched his right fender and the left fender of the trailer miss by less than a foot. He got stopped in a cloud of tire smoke, I opened the door and tried to motion an "RUOK?" then made my turn and headed embarrassedly on to the Home Depot.
I bought an adjustable wrench and slip-joint pliers. When I was able to check, the ball was tight, and I sat on the corner of the trailer and shook for a solid ten minutes. I knew I had been extremely lucky. Then, I snuck back onto I-95 north.
By 11:00am, I rolled into Beatty and fueled. There are a couple nice looking Casinos, but only a run-down Mexican restaurant. So, I bought a mini pizza at the gas station (made fresh) and went on.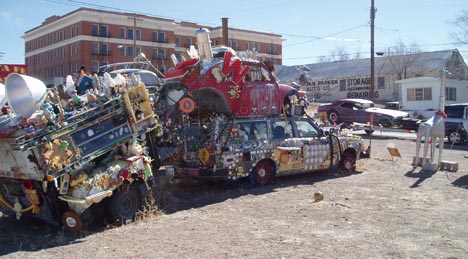 We added to the Art Car Park in Goldfield for a few minutes.
I shot this for Gordie Bonin. Just outside Mina, Nevada, is the Wild Kat Ranch. While working for his friend Bob Pearce in Bull Head City, he helped carve those Roman columns out of Styrofoam!
The next leg might have been the worst of the whole trip. I began to wish I could wiggle my nose and be home, you know, the way Elizabeth Montgomery used to do on "Bewitched." I had to stop a few times and take little walks. I wanted so bad to be done, to get out of the car and just be done with the trip. Like race drivers who experience those last lap jitters, I began to hear noises and come up with theories as to what might be wrong. When I reached
The major military base that surrounds Hawthorne has these great bunkers that I'm told house munitions of all kinds.
Hawthorne, I bought some grapes, double checked everything on the trailer and re-aired the tires on the Nova. Most of you who have been around racecars know that when the rear tires deflate, all the straps are very loose. I was trying to out think this thing. Up the road and sort of patting myself for catching that before it got worse, I realized just how rummy I truly was. I was nearly out of gas! I really had something to worry about then.
Should I go back to Hawthorne?
I tried to check the map but these aging eyes must use cheaters for map reading. I could not remember a gas station but knew of a tiny town up ahead, so I forged on.
I stopped once more, at a strange landmark on I-95 - a tree loaded with shoes! I took a few pictures of it for my friend Betten Hoover, Tom's wife, who has for years collected shoes she finds on roads and streets. Strange, but it is her hobby. There are plenty of strange things I do - like collecting teddy bears - so I won't say things about someone who collects cast-off shoes.
My trepidation was eased when a tiny gas station in the edge of Schurz hove into view. I poured five gallons in ($13.00), chose not to stock up on illegal fireworks being sold inside (firecrackers and gasoline seems like a good combo for a store), and drove on.
Can you tell how rummy I was getting? I decided that my 65mph shadow looked cool and tried to take a picture of it.
In Fallon, I called Sheldon and asked if he'd like to bring his two boys out to see the car as I went by. He picked a spot and I waited there for about 15 minutes before they arrived. The boys, Dallon and Sheldon Jr., crawled all over the Nova with smiles on their faces.
The sunset Saturday was really great.
They needed to drive to Carson City to get parts for their dually, so we agreed to have dinner. Then, while driving the very last leg with about ten miles to go, we got stopped in the midst of construction. While waiting for the pilot car, I nearly fell asleep. I called Sheldon and told him I'd changed my mind. I headed for home, which I reached at 7:15pm.
The trip had been 1570 miles. While reclining on my own bed, I went to sleep three times during televised qualifying for Pomona. Imagine that.
The following morning, I aired the FC tires at U-haul, poked the car into my storage unit, still on the trailer. On the way back home, a little light on the dashboard told me that the five gallons I'd purchased in Schurz would not last forever.
The whole unit slid right into the storage unit.