The Online Home of Phil Elliott and his Fuel Funny Car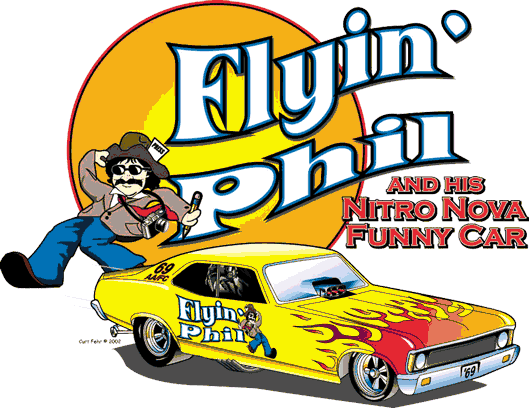 Nitro Nova artwork by Curt Fehr
"Twenty years from now you will be more disappointed by the things that you didn't do than by the ones you did do. So throw off the bowlines. Sail away from the safe harbor. Catch the trade winds in your sails. Explore. Dream. Discover." Mark Twain

When I was 14, I saw my first nitro-powered doorslammer. As the A/FX and altered wheelbase phenom evolved into fliptops, I grew more and more aroused -- I had to have one. Since then, I've worked on 'em, written about 'em, shot pix of 'em, had one about half done and sold it so I could produce a magazine (Drag Racing NW and Drag Racing News & Views) even drove a couple.

About five years ago, I finally decided I wasn't getting any younger so searched the country for a proper body. Since I'd always liked the mid-year Chevrolet Nova, it was my first choice. I finally found a 69 Nova body in Kansas. Then came a similar search for a chassis. My goal is to take a taste of nitro to some of the cow paths that haven't seen or smelled it for 30 years -- maybe 15-18 dates -- and write a book about the whole venture.
The plan is to run a tall-deck BBC -- about 450-470ci -- with an 8-71 on about 70%. It will be an old-style (small) fuel system that produces big flames and noise, but sticks to about 3-4 gallons per run. It'll be direct drive or a 2-speed with a Crowerglide 3- or 4-disc clutch.
Now, things are progressing…

"The only thing worse than failing is not trying." - Unknown
Nitro Nova T-Shirts Coming Soon!