Chapter Five: Intentions

Earl Watts tries out the newly arrived chassis.
Time to discuss intentions.
Many seem to think this will be an out-and-out racecar John Force-clone running gear with a 69 Nova shell draped over it. Nope. Not gonna happen.
The plan is to run a tall-deck real big block Chevy about 440-460ci with an 8-71 on about 70% and direct drive with a Crowerglide 3- or 4-disc clutch. It will have an old-style (spelled s-m-a-l-l) fuel system that produces big flames and noise, but sticks to about 3-4 gallons per run.

Steering is on a swingout bar for ease of maintenance.
To do that, according to Crane Cams' guru, Chase Knight, "Sure, we'll just use a 60's/70's era iron block Chevy style fuel roller cam (mild lift, lots of overlap for header flames, etc.) and send you on your merry way down the obscure dragstrips of America!"
I've talked to a number of people, advisers if you will, about just what I need to do with this powerplant. Many good intentioned folk only have one thing in min for my combination, top speeds, low ETs, winning, etc. These thoughts, while valid for ultimate racing, are contrary to mine.
I discovered this plastic pickup in the pits. It's Pro Mod style, with nearly 600ci under that wedged hood. Owner was shaking it down.
My goal is to take a taste of nitro to some of the small tracks that haven't seen or smelled it for thirty years maybe 15-18 dates and write a book about the whole venture probably a book on CD. And, this website is that book in the making. Of course, the CD will be much expanded from what you're seeing here. I intend to replicate, as best I can, the look and feel of fuel funny cars in about 1970. I want to perform this act for young and old, and hope to run 7.00/200 before the tour is complete.
This is an adventure story. Huck Finn and Ole Jim floating down the river on a homemade raft. A lone gypsy wagon traversing Europe. A lone pilot barnstorming the Midwest with a war-surplus "Jenny" biplane. I will share the entire experience. And, before you get any other ideas, I don't have a dime to pursue this adventure so that makes me equal with about half the funny car racers that set out for real in 1970.
Speedworld at sunset, Earl double-checking things before a time trial.
To this end, though I'm jumping ahead, I just bought a ramp truck! It is a converted bus that'll have living quarters on board.
A good friend, David Terry, has contributed two tall blocks and steel cranks to the projects. He says he has several other odds and ends necessary to this project. He may end up assembling the engine(s) in Indiana but that is still uncertain due to his work schedule.

Earl straps Laurie in.
But, I don't have engine innards, blower drives, a reverser, etc. Good friend Larry Torres of T&D Machine Products in Carson City, Nevada, will provide a set of his superb shaft roller rockers for this project. And, Pete Harris, who runs the crank shop for Crower, assures me he'll come up with a couple choice cranks off of his "B" pile when the time arrives.
(Do you have a bunch of ideas or parts? I need good building blocks. Do you have a line on any Enderle bugcatcher, Hilborn (short) 4-port upright, or Crower injectors under your bench?)
Only a few days after the body and chassis both arrived in Winslow, Arizona, Earl Watts made the trek there to see them. He sent me several digital images of both, including a couple of himself checking out the fit. He has a 23T altered so he has something to compare and thought my chassis was pretty cool.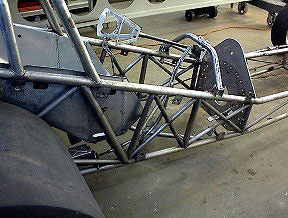 Enough uprights and diagonals for a bridge!
Many of the pictures were similar to those I already had so I won't duplicate them here. What I did see more clearly was that the chassis has enough uprights and diagonals for two cars, maybe for the Brooklyn Bridge! But again, that is fine for what I intend plus will give added safety to the driver's compartment. It has flip-out steering for ease in clutch maintenance and though the shaft will need to be shortened, it all looks fully workable. Actually, better than that!

Randy Walls debuts his Nova.
On March 24, I received a note from my friend Vern Scholz with a couple pictures attached.
"This could be you soon! Vern," was all it said.
The images were of Randy Walls' new Nova on shakedown runs at Carlsbad. I've seen the car on display a couple times at Bakersfield and it sure hit home that I needed to get after my project!
It was around the first of April that the Nitro Nova website debuted, and when I sent notes to a few friends to let them know of the progress! I received a number of notes from many of you, including this gem from Jay Mageau who runs a 57 Chevy FC up in British Columbia.
"Cool web page, Phil. Love the old Nova. Giver hell, man. J
PS - Oh, and about your dreams... NEVER give up."

Towing toward starting line.
I haven't mentioned here that 2002 marked my returned to the NHRA national event tour as a correspondent stories and photos on Draglist.com, and I started out the year hitting four-in-a-row. Whew.
At Las Vegas, the last planned event, I looked into heading for Winslow in a rent-a-car Saturday following qualifying, skipping the race itself to give the chassis/body a look-see. But, Chris decided to attend the event so we had a nice sitdown conversation with a scrapbook of photos he'd shot of the body/chassis as our focal point. It was highly productive and gave us both a great deal of ammo to move on. I promised to visit as soon as I could.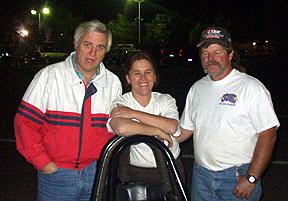 Phil talking, Laurie laughing and Earl with his eyes closed. Pretty typical.
So, on April 19, I flew to Phoenix to be picked up by Laurie and Earl Watts. They were to be racing her little purple dragster at Speedworld Friday night and I synched my arrival so they could pick me up after they finished.
It is about thirty minutes (the wrong way) from track to airport but that seemed to work out the best for them. That is until plans changed. The track moved the test-n-tune to Saturday. So, instead of post race, Earl and Laurie had to make a special four-hour roundtrip journey from Camp Verde to get me. Then, we made the trip again Saturday to the track.
That's Laurie explaining new additions - a Pat Foster-built fuel tank and a little airfoil. She still needs a pair of period rear wheels to complete the look of her little car.
We had a great time. It was a cool night at the track and after a first pass of 10.13/128 (RT .536), Laurie and Earl leaned the little engine and found a good 9.869/133 (RT .523) and she was ready. I'd seen Laurie run her little car a few times before and can tell you she's a very good driver. Not bad on tuning calls either. I'm one that always says, "needs more fuel" for every occasion. She's learned what her car wants.
After a driver's meeting that was the scene of an emotional goodbye to a local standout, Laurie faced a much slower first round opponent (DI's 9.84 and 17.19). Considering the long wait, the potential for a redlite seemed likely. In retrospect, it shouldn't have been, but that's racing. The opponent, also a young woman, had a lazy .725 reaction, coupled with a deep breakout 17.10. Laurie's reaction was a .479 Damn! But she legged it on out to a career best 9.82/133.69 anyway so the evening was not a total loss. The ride home was a quiet one.

Run two, at halftrack, in the dark.
By the way, I discovered a couple of the drawbacks of an inexpensive digital camera. I tried to capture Laurie on her second run and basically got a silhouette, her taillight, and the light source for the 660-foot timer. Forgive me for showing you but...
Explore.

Dream.

Discover.