When doing research, one cannot stop if reports conflict.

I feel a little like Howard Carter the guy that discovered Tutankhamun's tomb back in the 20s. Well not quite.

To research a dilapidated funny car body some thirty years after it last ran may not seem as elusive as finding a tomb hidden in The Valley of the Kings for four millennia. But, it sure has felt like it.

As I wrote in earlier chapters, I have the feeling the body once belonged to Bobby Wood. The fact that like Wood, Ernie Duckett hailed from Alabama is just too much of a coincidence to overlook.

Actually, when I began to place inquiries on the web, I received several responses. Even a few forwards. Several people that really like to document these things historically, exchanged messages in my regard.

One of the first was this one from David Dilbeck who runs a fun site called GeorgiaDragRacing.com. It is filled with heroes from the 60s and early 70s that toured through the strips in Georgia, and most shot at Southeastern Dragway in Dallas, just outside of Atlanta. He'd heard from Dennis Doubleday, who seems to do little else but post photos on several sites. Some are scans out of old magazines and papers covering dragracing. He said:

Phil, I just got this response off one of the lists:

David,

Just got some papers with the Mahaffey/Campbell Golden Rod Nova. Looks a lot like the Ernie Duckett car Flyin' Phil's trying to track down. I'm leaning more towards it than Woods now.

Dennis

Maybe this will help. David

Thanx David. Are there photos? I would have to say that the bottom layer of paint is a dark red like Wood's car was...

Phil

A photo returned.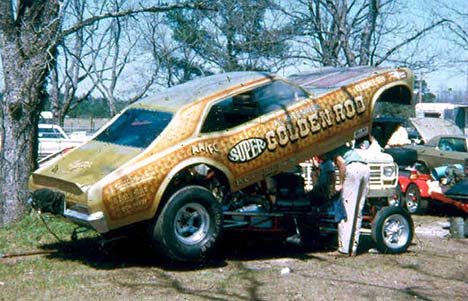 And do you know what is weird? I cried. No not one of those blubbery deals when you miss your momma. This was more of a joyful feeling than anything, that here was proof that the body I was gonna run had once been what I thought – a really truly fueler. There it was tilted up over a 392 Chrysler and mounted on what is most certainly a Don Hardy chassis. The Halibrand wheels glisten in what I believe is Georgia sunshine, and the body has a "lovely" lace paint job, so typical of the times.
Had I ever heard of the Super Golden Rod? No, but that didn't matter one hoot.
Instantly, I knew it was the body I had because of one identifying thing. The radiused rear wheel wells that I have disliked since the start have a funky notch where somebody had gotten jigsaw happy 33 years ago. If you look closely almost directly under the two As in AA/FC, there is that funky notch.
But wait, the back window is cut out?! Mine isn't…
More searching was necessary.
Here's another picture that Doubleday sent, showing all the particulars involved in the Golden Rod, racing each other on a much earlier occasion. I guess you already know I am enamored with early-day funny cars, and both of those are indeed fuelers.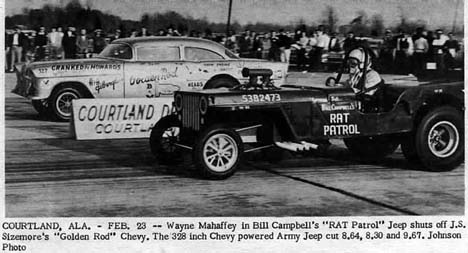 Click photo to see larger version.
Another suggestion came from photographer Louis Kimery, suggesting I contact Bobby Wood himself. He presently builds carburetors.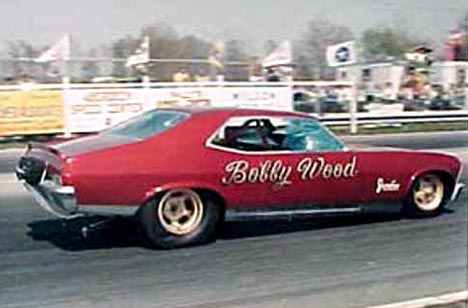 This is the body I have always believed mine to be, Bobby Wood's all-red Nova, the Kendall GT-1 Rebel, pictured at Indy in 1969. The other picture is earlier in the year before all the stickers and lettering are applied. I have included it here to show a comparison between it and the Golden Rod.
When a few points are matched up, the two cars appear to be one and the same. The rear spoilers are very similar, the chute mounts, wheelie bars and tin look to be identical. So, I've concluded that Bobby Wood's 1969 Nova became the Mahaffey/Campbell Super Golden Rod.
I also received this picture from Atlanta in 1970. That's Houston Platt's 70-1/2 Camaro in the far lane. This is the first time I remember seeing a Wood Nova with (poorly) radiused rear wheel wells. From this bit of evidence, I'm still betting my body was this car, which became the Golden Rod, then went to Ernie Duckett. I'm still perplexed about the rear window but that'll work itself out.

Click photo to see larger version.
I wrote to Wood in October:
Hi Bobby,
We've never met though I followed your race career long ago.
I am a drag racer writer, photographer and historian. I've always wanted a nitro FC of my own so a few years ago, I began searching for just the right components -- I wanted a 69 Nova. I found a body in Missouri that said Ernie Duckett on the side. After procuring it, I began to research. I keep thinking it is one of your two Novas. This body is narrowed about a foot.
For pix and info, check out my website, either flyinphil.com or nitronova.com.
Thanx. Would love to meet you in person someday.
Phil R. Elliott
I received an almost immediate reply. I could tell Bobby had been to the site:
I can't say for sure on that body but I would like a drawing of exactly where ALABAMA was painted on it. The Nova I had was the only Chevrolet powered funny car that held the NHRA National ET Record. I set it at Memphis TN in 1969 - Copy of this meet is on the net. Let me know about paint.
Thanks, Bobby Wood
So I wrote back. I was not sure why he wanted to know about the word Alabama since there were at least two paint jobs over his:
Yes, I'm quite familiar with your record. As I said, I was a fan and over the years have become a drag race historian.
I fell in love with your second FC, the 66 Chevelle, through magazine articles, and also give you a great deal of credit for being able to "shoe" the previous car, the VERY short 65 Chevelle. Wow!
I never saw another narrowed Nova besides your second body so I keep thinking there is a tie-in. This body was definitely narrowed after it came from the mold. Recently, I was sent a few pix of your second Nova and it was the first time I noticed your car had a plexi back window. The one I have has fiberglass but I will look carefully to see if that was put back in later.
My theory has been that you rebodied the second Nova as a Vega and this body was separated from its chassis. But, the cages on the second Nova and the Vega are not similar at all. I believe your first Nova, second Nova and Vega were all Don Hardy built.
Phil
Again, an almost immediate response:
All my cars after 1968 were Hardy built. Still need to know where ALABAMA was on car. All my cars had plexi rear windows. Thanks Bob Wood"
I sent a picture of Alabama on shield along with the Golden Rod:
Here is a pic of a car run by JC Sizemore. The rear wheelwells and a few other features are identical to my body. It too has plexi in the back window area. It is quite possible my back window was filled at a later time. This is the only pic I have of Goldenrod. Could this be the earlier of your two Novas? This car I believe became the Ernie Duckett machine.
Phil
Wood's response was rapid yet again:
J.C. Sizemore built my 1st 1965 Chevelle - This Nova body is probably one of mine, as J.C. was a good friend of mine! I'll try to call him soon if he is still with us. Thanks Bob Wood
I replied:
That would be great. The way the rear wheelwell is cut out is an absolute dupe of my body. I hope to have gained enuf space inboard to put stock shaped wheel wells back in. Never liked the radiused look except on short track stock cars.
Do you think that would be your whole first Nova or is that body on a different chassis? And were both of your Novas narrowed?
Phil
And he did too:
Don't know - it will take some time to figure out - I'll let you know.
Bob Wood
About the same time this dialogue was happening, I received two Emails from Dennis Doubleday
Hi Phil, great to see you back. I'm researching funny car stats for Pratt, and as I get to them, will scan photos/results of Duckett's car. Unfortunately, they are black & white drag paper shots. A while back, a question came up on fuelcoupes about your car prior to Duckett. Initially I thought it was an ex-Woods car, but now I think it looks a LOT like the Golden Rod, another south funny car. Will scan photos of that too. See what you think. Take care. Dennis Doubleday
Phil, it'd be good if you could contact Bill Campbell or Wayne Mahaffey. Duckett drove Campbell's Vega in 72, Mahaffey drove it also, and borrowed Bobby Wood's Chevy II body when the Vega got ruined. So Campbell is a link between Duckett AND the Woods Chevy II. I have newspaper shots of Duckett's car and at least one of the Golden Rod Chevy II but can't recall if Sizemore drove it or not.
Dennis Doubleday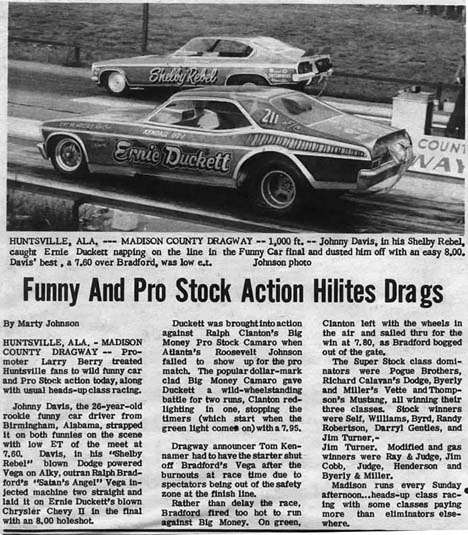 Click photo to see larger version.
And there it is with the exact lettering the way I got it.
Here's another photo that Chris Stinson scanned out of a 1974 Drag News. It's a bit grainy but you get the idea.
Even though I do not yet have a definitive answer on the where, when and who of the Nova body, I feel like I'm much closer.